Hyde and Shriek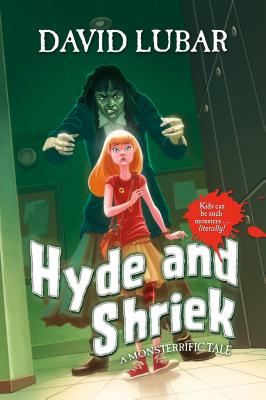 Hyde and Shriek
Starscape Books, Hardcover, 9780765330819, 135pp.
Publication Date: January 8, 2013
* Individual store prices may vary.
Shop Local
Enter your zip code below to find indies closest to you.
Description
There's something strange going on at Washington Irving Elementary School. People are turning into monsters-literally
Ms. Clevis is one of the most popular teachers at Washington Irving. Until the morning she accidentally puts some of the wrong ingredients into her breakfast smoothie. Suddenly she finds herself switching back and forth between mean substitute teacher Ms. Hyde and a sweet sixth grade girl named Jackie. Will Jackie figure out the cure before she changes into the horrible Ms. Hyde forever? Find out in David Lubar's" Hyde and Shriek.
About the Author
David Lubar created a sensation with his debut novel, "Hidden Talents", an ALA Best Book for Young Adults. Thousands of kids and educators across the country have voted "Hidden Talents" onto over twenty state lists. David is also the author of "True Talents", the sequel to "Hidden Talents"; "Flip", an ALA Best Book for Young Adults and a VOYA Best Science Fiction, Fantasy and Horror selection; five short story collections: "In the Land of the Lawn Weenies", "Invasion of the Road Weenies", "The Curse of the Campfire Weenies", "The Battle of the Red Hot Pepper Weenies", and "Attack of the Vampire Weenies"; and the Nathan Abercrombie, Accidental Zombie series. Lubar grew up in Morristown, New Jersey, and he has also lived in New Brunswick, Edison and Piscataway, NJ, and Sacramento, CA. Besides writing, he has also worked as a video game programmer and designer. He now lives in Nazareth, Pennsylvania.
Praise For Hyde and Shriek…
"Whoever thinks the short story is dead, or that kids don't like short stories, hasn't talked to any real live kids and hasn't read the latest in this popular series." —School Library Journal on Attack of the Vampire Weenies
"Bullies and others get their due in this hilarious new collection of 35 warped and creepy tales by the master of the 'weenie' story."—Buffalo News on The Battle of the Red Hot Pepper Weenies
"This book will talk itself right off the shelves, and reluctant readers will devour it."— School Library Journal on The Curse of the Campfire Weenies
"Another cool collection. This would be perfect to read around a campfire—or at any sleepover. They are creepy, but also hilarious." —Detroit Free Press on The Curse of the Campfire Weenies
"Lubar strikes again. Another winning round-up." — Booklist on Invasion of the Road Weenies
"This spring's most coveted title." — The Arizona Republic on Invasion of the Road Weenies
"These stories creeped us out — and we loved it. Four stars!" —Chicago Tribune on In the Land of the Lawn Weenies