Eye of the World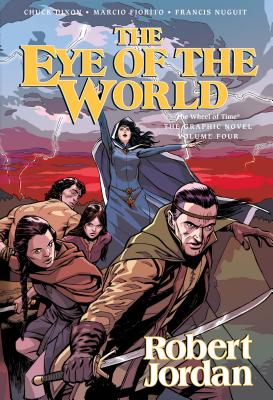 Eye of the World
Tor Books, Hardcover, 9780765331632, 175pp.
Publication Date: January 29, 2013
* Individual store prices may vary.
Buy at Local Store
Enter your zip code below to purchase from an indie close to you.
or
Buy Here
Description
With the full permission and cooperation of the Jordan estate, adapted by well-known comics writer Chuck Dixon, The Eye of the World: The Graphic Novel has been hailed as an exciting interpretation of Robert Jordan's classic fantasy novel. It features brilliant interior art by Marcio Fiorito and Francis Nuguit, and stunning covers by Jeremy Saliba and Seamus Gallagher. It collects issues thirteen to eighteen of the comic book.
Rand; his friends Mat, Perrin, and Egwene; the Aes Sedai Moiraine and her Warder, Lan Mandragoran; Thom the gleeman and Nynaeve, the village Wisdom, split into three groups while trying to escape the ancient, dead city of Shadar Logoth, where they are pursued by the deadly Mashadar. A disastrous river crossing leaves Perrin and Egwene on their own until they meet a mysterious stranger who claims that he and Perrin share a remarkable ability. Meanwhile, Rand, Mat, pose as Thom's apprentices as they sail downriver on a cargo ship.
About the Author
Robert Jordan was born in 1948 in Charleston, South Carolina. He taught himself to read when he was four with the incidental aid of a twelve-years-older brother, and was tackling Mark Twain and Jules Verne by five. He is a graduate of The Citadel, the Military College of South Carolina, with a degree in physics. He served two tours in Vietnam with the U.S. Army; among his decorations are the Distinguished Flying Cross with bronze oak leaf cluster, the Bronze Star with "V" and bronze oak leaf cluster, and two Vietnamese Gallantry Crosses with palm. A history buff, he has also written dance and theater criticism and enjoyed the outdoor sports of hunting, fishing, and sailing, and the indoor sports of poker, chess, pool, and pipe collecting. Robert Jordan began writing in 1977 and went on to write The Wheel of Time(r), one of the most important and best selling series in the history of fantasy publishing with over 14 million copies sold in North America, and countless more sold abroad. Robert Jordan died on September 16, 2007, after a courageous battle with the rare blood disease amyloidosis.

MARCIO FIORITO has illustrated for Anne Elizabeth's "Pulse of Power" and for the graphic novel of Robert Jordan s Wheel of Time, among other works. He was born in Brazil.

FRANCIS NUGUIT is a comic-book illustrator from the Philippines. He was an illustrator for the graphic novel of "The Eye of the World" by Robert Jordan.
Praise For Eye of the World…
"All of the dialogue is straight out of the book. Dixon is able to make the story flow on the page, without making it feel too dry or wordy. All the characters look like how I might imagine them. Fans of the books will be reminded of the things they enjoyed about the series in the first place." 
—Geeks of Doom

"I loved it. I really loved it. This is not just a beautiful visual aid to the story, but a means of being able to enjoy the story in a new way. I eagerly look forward to the next volume." 
—Richard Fife on Dragonmount.com