The Spook Lights Affair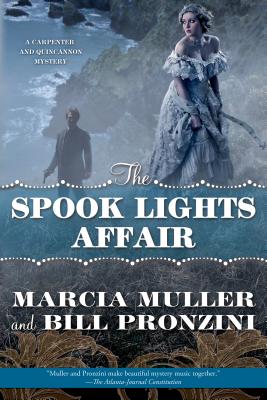 The Spook Lights Affair
Forge, Hardcover, 9780765331755, 251pp.
Publication Date: December 3, 2013
* Individual store prices may vary.
Buy Now
or
Shop Local
Enter your zip code below to purchase from an indie close to you.
Description
In 1895 San Francisco young debutantes don't commit suicide at festive parties, particularly not under the eye of Sabina Carpenter. But Virginia St. Ives evidently did, leaping from a foggy parapet in a shimmer of ghostly light. The seemingly impossible disappearance of her body creates an even more serious problem for the firm of Carpenter and Quincannon, Professional Detective Services.
Sabina hadn't wanted to take the assignment, but her partner John Quincannon insisted it would serve as entree to the city's ultra rich and powerful. That means money, and Quincannon loves the almighty dollar. Which is why he is hunting the bandit who robbed the Wells, Fargo office of $35,000.
Working their separate cases (while Sabina holds John off with one light hand), the detectives give readers a tour of The City the way it was. From the infamous Barbary Coast to the expensive Tenderloin gaming houses and brothels frequented by wealthy men, Quincannon follows a danger-laden trail to unmask the murderous perpetrators of the Wells, Fargo robbery. Meanwhile, Sabina works her wiles on friends and relatives of the vanished debutante until the pieces of her puzzle start falling into place. But it's an oddly disguised gent appearing out of nowhere who provides the final clue to both cases the shrewd "crackbrain" who believes himself to be Sherlock Holmes.
Fans of Marcia's Muller's bestselling Sharon McCone novels and Bill Pronzini's Nameless Detective series will applaud "The Spook Lights Affair "and future exploits from the annals of Carpenter and Quincannon, Professional Detective Services.
About the Author
MARCIA MULLER has written many novels and short stories. Her novel Wolf in the Shadows won the Anthony Boucher Award. The recipient of the Private Eye Writers of America s Lifetime Achievement Award and the Mystery Writers of America Grand Master Award - their highest accolade - she lives in northern California with her husband, mystery writer Bill Pronzini.

Bill Pronzini is a writer of detective fiction. He is also an active anthologist, having compiled more than 100 collections, most of which focus on mystery, western, and science fiction short stories.
Praise For The Spook Lights Affair…
"A winner!  Well-rounded characters, solid plotting, delightful writing, and plenty of suspense."
—Booklist on The Lighthouse

"The authors will thrill adventure fans with this exciting, colorful tale of history and mystery...  [They] work together as smoothly and effectively as their detective counterparts."
—Publishers Weekly on Beyond the Grave

"One of the most compelling and enriching mystery tales of the decade."
—Mystery Scene on Beyond the Grave

"Pronzini is justly celebrated as a chronicler of San Francisco, but this novel also showcases his deft touch with interiors—how an unmade bed, the stench of cigarette smoke, or an antiseptically clean and empty home can say volumes about the tail ends of desperate lives. Another Pronzini winner."
—Booklist on Fever