Island Apart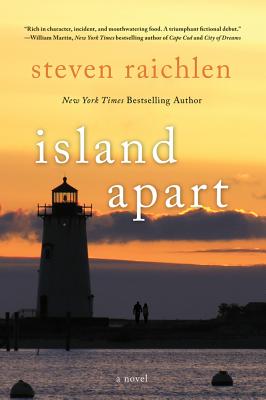 Island Apart
Forge, Hardcover, 9780765332387, 288pp.
Publication Date: June 5, 2012
* Individual store prices may vary.
Shop Local
Enter your zip code below to find indies closest to you.
Description
From the celebrated author of "Planet Barbecue" and "How to Grill" comes a surprising story of love, loss, redemption, and really good food.
Claire Doheney, recovering from a serious illness, agrees to house-sit in an oceanfront mansion on Chappaquiddick island in Martha's Vineyard. The New York book editor hopes to find solace, strength, and sufficient calm to finish her biography of the iconoclastic psychotherapist, Wilhelm Reich.
The last thing she expects to find is love.
Then she meets a mysterious man the locals call the Hermit. No one knows his real name or where he lives. To their mutual surprise, Claire and the stranger discover that they share a passion for cooking that soon sparks something more.
But Claire's new friend has a terrible secret that threatens to drive them apart forever. The clock is ticking. Can Claire let love into her life once more before it's too late?
Told by a "New York Times "bestselling author and international TV host with a keen eye for Chappaquiddick's extraordinary natural beauty, "Island Apart "has it all--romance, history, travel, crime, lovemaking of exquisite intensity, and cooking scenes so vivid, they'll make your taste buds ache with hunger. Steven Raichlen's novel is a smart love story--not to mention a terrific beach read. Think "The Bridges of Madison County "with better food.
About the Author
Steven Raichlen is America's "master griller" ("Esquire"). In addition to his bestselling, award-winning cookbooks, including T"he Barbecue" "Bible", "How to Grill", and "BBQ USA", articles by him appear regularly in "Food & Wine", "Bon Appetit", and other magazines and newspapers. He was host of PBS's popular series "Barbecue University" and "Primal Grill". "Bon Appetit" named him Cooking Teacher of the Year (2003). He has won 5 James Beard Awards, including two for his High-Flavor, Low-Fat series on which this book is based. He lives and grills in Coconut Grove, Florida and on Martha's Vineyard, Massachusetts.


Praise For Island Apart…
"Rich in character, incident, and mouthwatering food. A triumphant fictional debut." —William Martin, New York Times bestselling author of Cape Cod and City of Dreams 
"Much more than a promising first novel by a formidably talented writer; it is a literary achievement of the first order… a heartfelt, redemptive, and irresistible novel. Raichlen handles this complex tale of romance, family, illness, and dark secrets with intelligence, grace, and abiding tenderness."
—John Dufresne, author of Requiem, Mass 
"A quirky, surprising, and poignant romance, with a wonderful voice all its own.  Readers beware: the food in this novel will leave you ravenous."
—Barbara D'Amato, Mary Higgins Clark Award-winning author of Other Eyes
"Steven Raichlen has written a magical novel about a magical place.  He deftly captures the subtleties, oddities, and beguiling charm of Martha's Vineyard and Chappaquiddick. Take this literary ferry.  You'll enjoy your stay."
—Lucia St. Clair Robson, New York Times bestselling author of Last Train from Cuernavaca, winner of the Spur Award
"Steven Raichlen presents a kaleidoscope of personalities with insight and compassion, while reminding us that good food, prepared with love, may not heal all wounds, but it can't hurt and it often helps. A splendid beach read!"
—Mary Doria Russell, Pulitzer Prize nominee and author of Thread of Grace and Doc
"For the millions who know Steven Raichlen as the last word on barbecue, it might come as a surprise to discover that he has written a beautifully wrought, highly nuanced novel set amidst the distinctive landscape of Chappaquiddick, Massachusetts.   What won't surprise anyone, though, is that central to the compelling narrative of Island Apart is the redemptive power of food and a mindfully prepared meal.  Claire Doheney, healing from a serious illness at a friend's oceanfront mansion, meets an enigmatic character known locally as the Hermit, and as unlikely as it might seem to both of them, sparks begin to fly over their shared passion for cooking, and love ensues.  All of this is threatened when Claire unravels the secret of the Hermit's strange circumstances.  Raichlen has moved deftly into the world of fiction, and I, for one, can't wait for his next creation!"
—Mitchell Kaplan, Founder and owner of Books & Books, Florida, New York, Cayman Islands
"I didn't want to put it down.  I was so intrigued by the Hermit—couldn't wait to find out what his story was and how the relationship would develop.   I loved all of the history and island lore; I adored the food theme and scenes throughout the book.   I also love the fact that there's a lot to talk about with this book, and that makes it good fodder for book clubs.  I can't wait to have Island Apart in the store."
—Sandy Francis, co-owner of The Bookstore in The Grove, Miami, Florida