Ask Not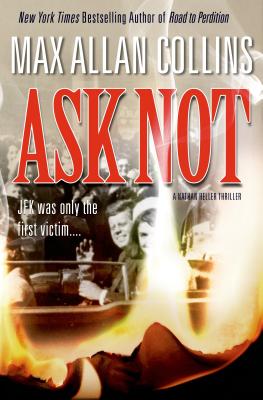 Ask Not
Forge, Hardcover, 9780765336262, 320pp.
Publication Date: October 22, 2013
* Individual store prices may vary.
Buy at Local Store
Enter your zip code below to purchase from an indie close to you.
or
Not Currently Available for Direct Purchase
Description
Chicago, September 1964. Beatlemania sweeps the nation, the Vietnam War looms, and the Warren Commission prepares to blame a "lone-nut" assassin for the killing of President John F. Kennedy. But as the post-Camelot era begins, a suspicious outbreak of suicides, accidental deaths, and outright murders decimates assassination witnesses. When Nathan Heller and his son are nearly run down on a city street, the private detective wonders if he himself might be a loose end. . . .
Soon a faked suicide linked to President Johnson's corrupt cronies takes Heller to Texas, where celebrity columnist Flo Kilgore implores him to explore that growing list of dead witnesses. With the blessing of Bobby Kennedy former US attorney general, now running for Senator from New York Heller and Flo investigate the increasing wave of violence that seems to emanate from the notorious Mac Wallace, rumored to be LBJ's personal hatchet man.
Fifty years after JFK's tragic death, Collins's rigorous research for "Ask Not" raises new questions about the most controversial assassination of our time.
About the Author
Max Allan Collins is the author of the Shamus Award-winning Nathan Heller historical thrillers. His other books include the New York Times bestseller Saving Private Ryan and the USA Today bestselling CSI series. His comics writing ranges from the graphic novel Road to Perdition, source of the Tom Hanks film, to long runs as scripter of the Dick Tracy comic strip and his own innovative Ms. Tree. Collins is also a screenwriter and a leading indie filmmaker in his native Iowa, where he lives with his wife, writer Barbara Collins, and their son, Nathan.
Praise For Ask Not…
For Target Lancer
"Collins has not only devised an original take on what may well be the most-written-about crime in history but also made Heller's role in the case plausible."
—Publishers Weekly
"Target Lancer brings us a different, fact-based assassination scenario, eerily paralleling the Dealey Plaza nightmare." —Kirkus Reviews
"Collins spins a fascinating tale with appearances by Jack Ruby, Jimmy Hoffa, and Bobby Kennedy. Gripping from the get-go, this will satisfy both Heller fans and assassination wonks ever eager for a new spin on the story." —Booklist
Praise for Bye Bye, Baby
"Noir meets the History Channel—Collins effortlessly weaves his historical material into a fast-moving narrative."
--Booklist
"Max Allan Collins can lay claim to being the master of true-crime fiction. . . a seamless juxtaposition of narrative cunning and historical cross-referencing." 
--Chicago Magazine