Old Man's War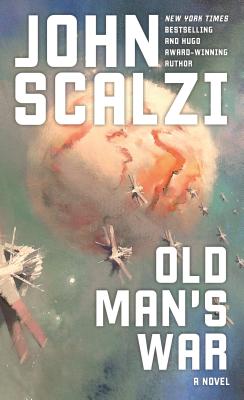 Old Man's War
Tor Books, Mass Market Paperbound, 9780765348272, 318pp.
Publication Date: January 15, 2007
* Individual store prices may vary.
Buy Now
or
Shop Local
Enter your zip code below to purchase from an indie close to you.
Description
John Perry did two things on his 75th birthday. First he visited his wife's grave. Then he joined the army.
The good news is that humanity finally made it into interstellar space. The bad news is that planets fit to live on are scarce and alien races willing to fight us for them are common. So: we fight. To defend Earth, and to stake our own claim to planetary real estate. Far from Earth, the war has been going on for decades: brutal, bloody, unyielding.
Earth itself is a backwater. The bulk of humanity's resources are in the hands of the Colonial Defense Force. Everybody knows that when you reach retirement age, you can join the CDF. They don't want young people; they want people who carry the knowledge and skills of decades of living. You'll be taken off Earth and never allowed to return. You'll serve two years at the front. And if you survive, you'll be given a generous homestead stake of your own, on one of our hard-won colony planets.
John Perry is taking that deal. He has only the vaguest idea what to expect. Because the actual fight, light-years from home, is far, far harder than he can imagine and what he will become is far stranger.
About the Author
John Scalzi is the author of several SF novels including the bestselling Old Man's War sequence, comprising Old Man's War, The Ghost Brigades, and the New York Times-bestselling The Last Colony. He is a winner of science fiction's John W. Campbell Award for Best New Writer, and he won the Hugo Award for Your Hate Mail Will Be Graded, a collection of essays from his popular blog Whatever. His latest novel, Fuzzy Nation, hit the New York Times bestseller list in its first week on sale. He lives in Ohio with his wife and daughter.
Praise For Old Man's War…
"Though a lot of SF writers are more or less efficiently continuing the tradition of Robert A. Heinlein, Scalzi's astonishingly proficient first novel reads like an original work by the late grand master...This virtuoso debut pays tribute to SF's past while showing that well-worn tropes still can have real zip when they're approached with ingenuity."
--Publishers Weekly (starred review) on Old Man's War
 
"Solid…[Scalzi] sidesteps most of the cliches of military science fiction, delivers fast-paced scenes of combat and pays attention to the science underpinning his premise."
--San Francisco Chronicle on Old Man's War
 
"Thought-provoking!"
--Entertainment Weekly on Old Man's War
 
"Smartly conceived and thoroughly entertaining, Old Man's War is a splendid novel."
-Cleveland Plain Dealer
 
"Solid…[Scalzi] sidesteps most of the cliches of military science fiction, delivers fast-paced scenes of combat and pays attention to the science underpinning his premise."
-San Francisco Chronicle on Old Man's War
 
"Gripping and surpassingly original. It's Starship Troopers without the lectures. It's The Forever War with better sex. It's funny, it's sad, and it's true."
--Cory Doctorow on Old Man's War

"John Scalzi is a fresh and appealing new voice, and Old Man's War is classic SF seen from a modern perspective--a fast-paced tour of a daunting, hostile universe."
--Robert Charles Wilson
 
"I enjoyed Old Man's War immensely. A space war story with fast action, vivid characters, moral complexity and cool speculative physics, set in a future you almost want to live into, and a universe you sincerely hope you don't live in already."
--Ken MacLeod