Impact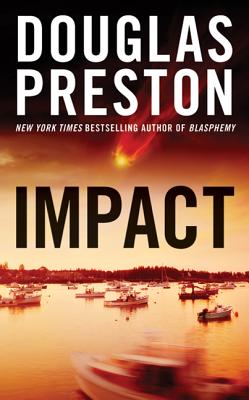 Impact
Forge, Mass Market Paperbound, 9780765356970, 432pp.
Publication Date: December 28, 2010
* Individual store prices may vary.
Buy at Local Store
Enter your zip code below to purchase from an indie close to you.
or
Buy Here
Description
In Douglas Preston's "Impact," Wyman Ford is tapped for a secret expedition to Cambodia... to locate the source of strangely beautiful gemstones that do not appear to be of this world.
A brilliant meteor lights up the Maine coast... and two young women borrow a boat and set out for a distant island to find the impact crater.
A scientist at the National Propulsion Facility discovers an inexplicable source of gamma rays in the outer Solar System. He is found decapitated, the data missing.
High resolution NASA images reveal an unnatural feature hidden in the depths of a crater on Mars... and it appears to have been activated.
Sixty hours and counting.
About the Author
Douglas Preston, who worked for several years in the American Museum of Natural History in New York City, is the author of the acclaimed nonfiction works Dinosaurs in the Attic and Cities of Gold, and the novel, Jennie. He lives in Santa Fe, New Mexico.
Praise For Impact…
"Some hopeful science fiction fans such as yours truly have begun to see Preston as the possible successor to the recently deceased Michael Crichton… Some novels you want to savor, some you want to read so quickly that you can scarcely keep yourself from tearing pages as you move forward. Preston's entertaining accomplishments tend toward the latter."
--Alan Cheuse, National Public Radio

"What this book needs is a mind eraser, one that sweeps it from your mind so that you can pick it up and read it again, new and fresh.  Yeah, it's that good.  People who enjoy a good dose of action, well-explained science and brilliant science fiction will find themselves spellbound with [Impact].  But once you read it, too bad.  It would be nice to forget it, and then read it again."
--Lincoln Journal Star

"Impact is out of this world. Simply put, Douglas Preston has crossed over into a new frontier of thriller. It is a fireball of astronomic proportion that will leave you gasping for air! So buckle up, turn off the phone, and don't forget to breathe."
—Brad Thor, #1 New York Times bestselling author of The Apostle

"Douglas Preston's wildly creative novels expertly blend real science and heart-stopping thrills. He is, quite simply, the new and improved Michael Crichton."
—Tess Gerritsen, New York Times bestselling author of The Keepsake

"A brilliantly executed thriller—exciting, fascinating, and thought-provoking. The kind of book you want to savor—and when dawn comes you realize that it has taken off like a rocket and swept you through the night. Wild and wonderful reading fun! A highly original and yet eerily plausible premise."
—Whitley Strieber, New York Times bestselling author of Critical Mass

"Brilliant . . . full of huge ideas, but intensely human, too, and intensely suspenseful."
—Lee Child, New York Times bestselling author of the Jack Reacher novels

"Preston will have his readers checking the sky for falling objects. Impact delivers one . . . and then some!"
—Sandra Brown, New York Times bestselling author of Smash Cut: A Novel

"One of our best writers and entertainers is back, so make sure that your seat belts are securely fastened and your tray tables are stowed, because—no surprise—Douglas Preston pulls it off yet again: another fast-paced, action-packed, mind-bending adventure. You'll be sorry when the flight is over and your imagination returns you to the real world."
—William Martin, New York Times bestselling author of The Lost Constitution