Arctic Rising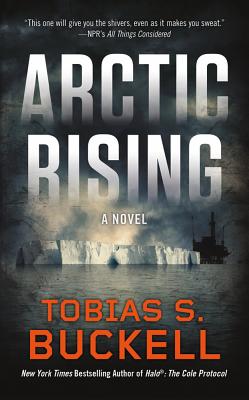 Arctic Rising
Tor Books, Mass Market Paperbound, 9780765358738, 352pp.
Publication Date: December 24, 2012
* Individual store prices may vary.
Shop Local
Enter your zip code below to find indies closest to you.
Description
"New York Times "bestselling author Tobias S. Buckell shows us a chilling future in "Arctic Rising."
The Arctic Ice Cap has all but melted, and the international community is racing to claim the massive amounts of oil beneath the newly accessible ocean. Enter the Gaia Corporation. Its two founders plan to terraform Earth to save it from itself--but in doing so, they may have created a superweapon the likes of which the world has never seen. Anika Duncan, a pilot for the United Nations Polar Guard, finds herself caught up in a plot by military agencies and corporations who want the Gaia Corporation stopped. But when Gaia loses control of its superweapon, it will be Anika who has to decide the future of the world.
About the Author
Tobias S. Buckell is a Caribbean-born speculative fiction writer who grew up in Grenada, the British Virgin Islands, and the U.S. Virgin Islands. He now lives in Ohio. He has published stories in various magazines and anthologies. He is a Clarion graduate, Writers of The Future winner, and Campbell Award for Best New SF Writer Finalist. His work has appeared in the Year's Best Science Fiction anthologies. His novel Ragamuffin was nominated for the Nebula and Prometheus awards.
Praise For Arctic Rising…
"Tobias Buckell is stretching the horizons of science fiction and giving readers a hell of a lot of swashbuckling fun in the bargain."
—John Scalzi, bestselling author of Old Man's War

"Buckell delivers double helpings of action and violence in a plot-driven story worthy of a Hollywood blockbuster."
—Publishers Weekly on Sly Mongoose

"Buckell's world-building, full of strong Aztec and Caribbean elements, is spectacular; the story, finely tuned and engrossing." 
—Booklist on Sly Mongoose

"Zombies. Interplanetary battles. Alien races. A hero that can destroy a city in a single bounce. What's not to love? Light enough for a beach read, smart enough for bedside, this novel can be enjoyed on multiple levels." 
—RT Book Reviews on Sly Mongoose

"Buckell represents an important force behind the genre's change. Buckell's work deals with complex racial issues in a way worthy of the self-proclaimed 'literature of ideas': head-on, with no visible flinching, while still managing to give its readers a rollicking good time." 
—The Seattle Times