The Time Traveler's Almanac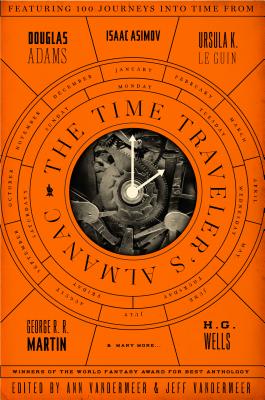 The Time Traveler's Almanac
Tor Books, Hardcover, 9780765374219, 948pp.
Publication Date: March 18, 2014
* Individual store prices may vary.
Shop Local
Enter your zip code below to find indies closest to you.
Description
"The Time Traveler's Almanac" is the largest and most definitive collection of time travel stories ever assembled. Gathered into one volume by intrepid chrononauts and world-renowned anthologists Ann and Jeff VanderMeer, this book compiles more than a century's worth of literary travels into the past and the future that will serve to reacquaint readers with beloved classics of the time travel genre and introduce them to thrilling contemporary innovations.
This marvelous volume includes nearly seventy journeys through time from authors such as Douglas Adams, Isaac Asimov, Ray Bradbury, William Gibson, Ursula K. Le Guin, George R. R. Martin, Michael Moorcock, H. G. Wells, and Connie Willis, as well as helpful non-fiction articles original to this volume (such as Charles Yu's "Top Ten Tips For Time Travelers").
In fact, this book is like a time machine of its very own, covering millions of years of Earth's history from the age of the dinosaurs through to strange and fascinating futures, spanning the ages from the beginning of time to its very end. "The Time Traveler's Almanac" is the ultimate anthology for the time traveler in "your" life.
About the Author
Hugo Award winner Ann VanderMeer and World Fantasy Award-winner Jeff VanderMeer have recently coedited such anthologies as Best American Fantasy #1 & 2, Steampunk, Steampunk Reloaded, The New Weird, Last Drink Bird Head, and Fast Ships, Black Sails. They are the coauthors of The Kosher Guide to Imaginary Animals. Future projects include The Weird: A Compendium of Strange and Dark Fictions, for Atlantic. Jeff's latest books are the novel Finch, a World Fantasy Award and Nebula Award finalist; the story collection The Third Bear; the nonfiction collection Monstrous Creatures; the coffee-table book The Steampunk Bible (with S. J. Chambers); and the writing strategy guide Booklife. Ann is the editor in chief of Weird Tales magazine and has a regular art column on the popular SF/fantasy Web site io9. Together, they have been profiled by National Public Radio and the New York Times' Papercuts blog. They are active teachers, and have taught at Clarion San Diego, Odyssey, and the teen writing camp Shared Worlds, for which Jeff serves as the assistant director. They live in Tallahassee, Florida, with too many books and four cats.
JEFF VANDERMEER is a two-time winner of the World Fantasy Award. He has been nominated for the Hugo Award, the Philip K. Dick Award, the International Horror Guild Award, the British Fantasy Award, the Bram Stoker Award and the Theodore Sturgeon Memorial Award. His most recent books have made the year s best lists of Publishers Weekly, the San Francisco Chronicle and many others. His writing has appeared in various publications, including The New York Times Book Review. He lives in Tallahassee, Florida.
WEB: JEFFVANDERMEER.COMFACEBOOK: JEFF VANDERMEERTWITTER: @JEFFVANDERMEER
Praise For The Time Traveler's Almanac…
A new anthology from the editors of The Weird (Winner of the World Fantasy Award and British Fantasy Award for Best Anthology, Publishers Weekly Top 10 SF&F Books of 2012, Amazon Top 10 SF&F Books of 2012)

"No popular-fiction library should not have this treasure trove."
—Booklist, starred review on The Weird

"This standard-setting compilation is a deeply affectionate and respectful history of speculative fiction's blurry edges, and its stunning diversity, excellent quality, and extremely reasonable price point will entice a wide variety of readers—including those who think they don't like 'weird.'"
—Publishers Weekly, starred review on The Weird
Tuesday, Apr 8, 2014
The new Time Traveler's Almanac is a vast collection of chronological chronicles. Co-editor Ann VanderMeer says she was surprised to find that most time travelers just want to fix their love lives. More at NPR.org