Sly Mongoose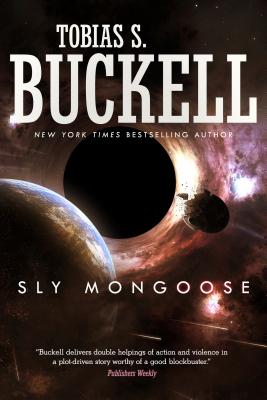 Sly Mongoose
Tor Books, Paperback, 9780765376305, 320pp.
Publication Date: May 19, 2015
* Individual store prices may vary.
Buy Now
or
Shop Local
Enter your zip code below to purchase from an indie close to you.
Description
"Sly Mongoose: "a thrilling science fiction tale by the "New York Times" bestselling author now featuring brand-new cover art.
Tobias S. Buckell is well known as the "New York Times" bestselling author of "Halo: The Cole Protocol." Tor is proud to reintroduce his early science fiction novels to his many fans in handsome trade paperback editions featuring stunning new cover art.
Welcome to Chilo, a planet blasted by corrosive rain, crushing pressure, and deadly heat. A planet where people live in floating cities high above the inferno. A select group of young men, including fourteen-year-old Timas, risk death to obtain the raw materials necessary for survival by travelling down through the acid clouds to mine the planet's surface.
Timas's life is turned upside down when a man named Pepper crash-lands on the city. Pepper is fleeing a bizarre alien intelligence, and he bears ominous news that a full-scale invasion cannot be far behind.
As Timas and Pepper try to convince the reluctant city government to prepare for war, floating cities all across Chilo fall silent one by one. Time is running out for Timas and Pepper to discover how to defeat an enemy that turns Chilo's own citizens into monsters, and to discover the secret hidden beneath Chilo's deadly clouds a secret that could save the planet and may prevent interplanetary war.
About the Author
Tobias S. Buckell is the author of several novels including "Halo: The Cole Protocol", "Arctic Rising, Sly Mongoose", "Ragamuffin, " and "Crystal Rain". His books have been finalists for the Nebula Award, the Prometheus Award, and the Romantic Times Award for Best Science Fiction Novel. He hails from the Caribbean, where as a child he lived on boats in Grenada and the British and U.S. Virgin Islands. When he was a teenager, his family moved to Ohio after a series of hurricanes destroyed the boat they were living on, and he attended Bluffton University in Bluffton, Ohio, where he still lives today. Buckell fell in love with science fiction at a young age, reading Arthur C. Clarke and Isaac Asimov novels when he was seven years old. He is now a full-time author and freelancer.