Made to Kill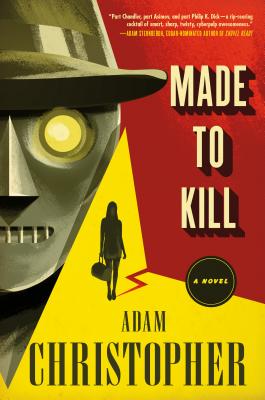 Made to Kill
Tor Books, Hardcover, 9780765379184, 240pp.
Publication Date: November 3, 2015
* Individual store prices may vary.
Buy at Local Store
Enter your zip code below to purchase from an indie close to you.
or
Buy Here
Description
It was just another Tuesday morning when she walked into the office--young, as I suspected they all might be, another dark brunette with some assistance and enough eye black to match up to Cleopatra. And who am I? I'm Ray, the world's last robot, famed and feared in equal measure, which suits me just fine--after all, the last place you'd expect to find Hollywood's best hit man is in the plain light of day.
Raymond Electromatic is good at his job, as good as he ever was at being a true Private Investigator, the lone employee of the Electromatic Detective Agency--except for Ada, office gal and super-computer, the constant voice in Ray's inner ear. Ray might have taken up a new line of work, but money is money, after all, and he was programmed to make a profit. Besides, with his twenty-four-hour memory-tape limits, he sure can keep a secret.
When a familiar-looking woman arrives at the agency wanting to hire Ray to find a missing movie star, he's inclined to tell her to take a hike. But she had the cold hard cash, a demand for total anonymity, and tendency to vanish on her own.
Plunged into a glittering world of fame, fortune, and secrecy, Ray uncovers a sinister plot that goes much deeper than the silver screen--and this robot is at the wrong place, at the wrong time.
Made to Kill is the thrilling new speculative noir from novelist and comic writer Adam Christopher.
About the Author
ADAM CHRISTOPHER is a novelist and comic writer. In 2010, as an editor, Christopher won a Sir Julius Vogel award, New Zealand's highest science fiction honor. In 2013, he was nominated for the Sir Julius Vogel award for Best New Talent, with Empire State shortlisted for Best Novel. His other novels include The Age Atomic and The Burning Dark.