The Corner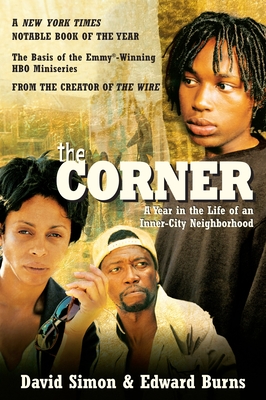 The Corner
A Year in the Life of an Inner-City Neighborhood
Broadway Books, Paperback, 9780767900317, 576pp.
Publication Date: June 15, 1998
* Individual store prices may vary.
Buy at Local Store
Enter your zip code below to purchase from an indie close to you.
or
Buy Here
Description
The crime-infested intersection of West Fayette and Monroe Streets is well-known--and cautiously avoided--by most of Baltimore. But this notorious corner's 24-hour open-air drug market provides the economic fuel for a dying neighborhood. David Simon, an award-winning author and crime reporter, and Edward Burns, a 20-year veteran of the urban drug war, tell the chilling story of this desolate crossroad.

Through the eyes of one broken family--two drug-addicted adults and their smart, vulnerable 15-year-old son, DeAndre McCollough, Simon and Burns examine the sinister realities of inner cities across the country and unflinchingly assess why law enforcement policies, moral crusades, and the welfare system have accomplished so little. This extraordinary book is a crucial look at the price of the drug culture and the poignant scenes of hope, caring, and love that astonishingly rise in the midst of a place America has abandoned.
About the Author
David Simon's "Homicide" won an Edgar Award and became the basis for the NBC award-winning drama. Simon's second book, "The Corner: A Year in the Life of an Inner-City Neighborhood," co-authored with Edward Burns, was made into an HBO miniseries. Simon is currently the executive producer and writer for HBO's Peabody Award-winning series "The Wire," He lives in Baltimore.

Edward Burns is Senior Lecturer in the Department of English Language and Literature, University of Liverpool.

Praise For The Corner…
Praise for The Corner:

"The Corner is an intimate, intense dispatch from the broken heart of urban America. It is impossible to read these pages and not feel stunned at the high price, in human potential, in thwarted aspirations, that simple survival on the streets of West Baltimore demands of its citizens. An important document, as devastating as it is lucid."
--Richard Price, author of Clockers

"The Corner is a remarkable book--very tough, very demanding, very rewarding. Some of it is brutal and all of it is heartbreaking. As a reporter, I can only stand back and admire David Simon and Edward Burns for an amazing piece of reportage. To be there for an entire year, to make sense of random events and a list of characters long enough to make Charles Dickens envious, and to write coherently--it's a breathtaking achievement. And they manage to make West Baltimore as much a character as any of the flesh-and-blood people in the book."
--Glenn Frankel, author of Beyond the Promised Land

"If you want to understand street-corner life in the inner city, you should read The Corner, an amazingly intimate, detailed work of reporting that makes human and vivid a world that outsiders ordinarily are forced to learn about through statistics, sound bites, and stereotypes."
--Nicholas Lemann, author of The Promised Land