You Know You're 50 When...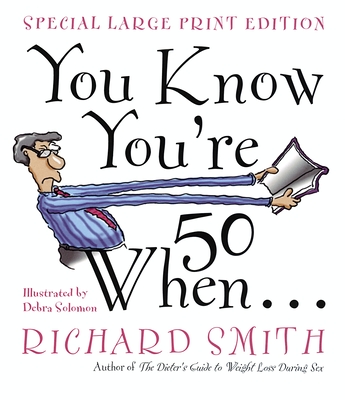 You Know You're 50 When...
Broadway Books, Paperback, 9780767902106, 128pp.
Publication Date: May 4, 1998
* Individual store prices may vary.
Shop Local
Enter your zip code below to find indies closest to you.
Description
Richard Smith's wildly popular books have made America laugh about everything from wedding-night jitters to weight loss. Now he turns his comic talent to a subject he's about to experience himself: climbing the half-century hill.

Over the next 15 years, 45 million baby boomers will celebrate their 50th birthdays. With Smith as their guide, the Boomers will know exactly what lies ahead. Not only does turning 50 mean you survived your 40s, but you get to join the AARP, answer your front door in bedroom slippers, and spend your kid's inheritance on liposuction. You also know you're 50 when...

Your main form of aerobic exercise is getting up to change the channelAn obscene phone call makes you chuckleYou think a mosh pit is something found at the center of an exotic fruitYou wonder who'll die first--you or your moneyYou wish the "ol' ticker" had a quartz movement"Performance anxiety" refers to your golf game

With 200 of these cleverly illustrated clues and quips as well as comparison charts, entertaining graphs, and hilarious lists, "You Know You're 50 When..." will be the must-have, must-give birthday present for every soon-to-be-50 American.
About the Author


Smith and Doe are the authors of the #1 bestseller "What Men Don't Want Women to Know. "They work in the film industry and live in Southern California.


Debra Solomon is an illustrator and animator whose short films have won awards at film festivals around the world. She created the animated Lizzie McGuire character for the hit Disney show. She also wrote the award-winning kids' books "Oh Brother!" and "Oh Sister!", and co-authored "A Good Friend" and "101 Uses for an Ex-Husband". Ms. Solomon lives in New York City.