Going to Pieces Without Falling Apart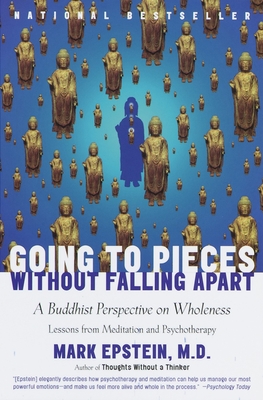 Going to Pieces Without Falling Apart
A Buddhist Perspective on Wholeness
Broadway Books, Paperback, 9780767902359, 224pp.
Publication Date: June 1, 1999
* Individual store prices may vary.
Buy Now
or
Shop Local
Enter your zip code below to purchase from an indie close to you.
Description
For decades, Western psychology has promised fulfillment through building and strengthening the ego. We are taught that the ideal is a strong, individuated self, constructed and reinforced over a lifetime. But Buddhist psychiatrist Mark Epstein has found a different way.
Going to Pieces Without Falling Apart shows us that happiness doesn't come from any kind of acquisitiveness, be it material or psychological. Happiness comes from letting go. Weaving together the accumulated wisdom of his two worlds--Buddhism and Western psychotherapy--Epstein shows how "the happiness that we seek depends on our ability to balance the ego's need to do with our inherent capacity to be." He encourages us to relax the ever-vigilant mind in order to experience the freedom that comes only from relinquishing control.
Drawing on events in his own life and stories from his patients, Going to PiecesWithout Falling Apart teaches us that only by letting go can we start on the path to a more peaceful and spiritually satisfying life.
About the Author
Mark Epstein, M.D., is also the author of "Thoughts Without a Thinker: Psychotherapy from a Buddhist Perspective." A psychiatrist & consulting editor to "Tricycle: The Buddhist Review," he lives in New York City.
Praise For Going to Pieces Without Falling Apart…
"[Epstein] elegantly describes how psychotherapy and meditation can help us manage our most powerful emotions--and make us feel more alive and whole in the process."
--Psychology Today

"Exhilarating . . . brilliant and original. . . . Important because it shows how work on the pains and pleasures of our own lives can be a means of transformation."
--New Age

"A daring and profound synthesis of intelligence about emotions East and West . . . establishes Mark Epstein as one of psychology's most dazzling thinkers."
--Daniel Goleman, author of Emotional Intelligence

"Plato's Socrates once wondered whether he should be a politician or a physician--that is, whether he should try to serve the existing tastes and interests of his fellow citizens or continually work to improve their minds and souls. Going to Pieces Without Falling Apart will appeal to physicians, therapists, and patients who, like Socrates, opt for the latter."                           --New England Journal of Medicine

"A thought-provoking look at how to break free from psychological materialism."
--Utne Reader