Simple to Spectacular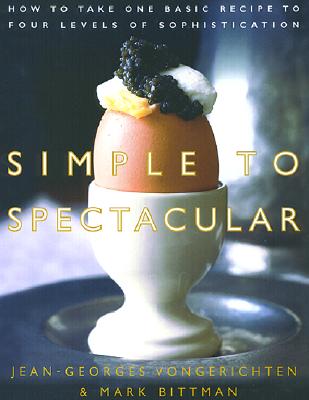 Simple to Spectacular
How to Take One Basic Recipe to Four Levels of Sophistication
Clarkson Potter Publishers, Hardcover, 9780767903608, 432pp.
Publication Date: October 10, 2000
* Individual store prices may vary.
Buy at Local Store
Enter your zip code below to purchase from an indie close to you.
or
Buy Here
Description
What happens when a four-star chef and a culinary minimalist decide to join forces to create something different? They invent a new style that adapts to every occasion and every level of cooking expertise. Simple to Spectacular introduces a unique concept developed by one of the world's top chefs, Jean-Georges Vongerichten, and Mark Bittman, author of How to Cook Everything and the New York Times's hugely popular column "The Minimalist." Ever since their award-winning collaboration on Jean-Georges: Cooking at Home with a Four-Star Chef, the acclaimed duo has been cooking up a repertoire of new dishes that can be prepared in any of five progressively sophisticated ways.
Simple to Spectacular features a total of 250 recipes in 50 groups. Each group begins with a simple, elegant recipe--a few ingredients combined for maximum effect--followed by fully detailed, increasingly elaborate variations. For example, a recipe for Grilled Shrimp with Thyme and Lemon leads to Grilled Shrimp and Zucchini on Rosemary Skewers, Grilled Shrimp with Apple Ketchup, Thai-style Grilled Shrimp on Lemongrass Skewers, and Grilled Shrimp Balls with Cucumber and Yogurt.
Every aspect of the meal is covered, from superb soups and salads to unforgettable side dishes, entrees, and desserts. In Simple to Spectacular, everything--from the basics to innovations by a four-star chef--is tailored for a quick Tuesday night dinner or an elegant weekend party. And in the now-classic Vongerichten-Bittman style, all of the recipes can be made in the kitchen of any home cook. With 80 full-color photographs giving a mouthwatering view of the Simple-to-Spectacular transformations, readers and cooks will eagerly explore the possibilities.Jean-Georges Vongerichten (right) won the 1998 James Beard Award for Outstanding Chef and Best New Restaurant. His Manhattan restaurants include Vong, Jo Jo, The Mercer Kitchen, and Jean Georges, which earned a rare four-star rating from the New York Times.
In Simple to Spectacular, two titans of the food world have created a truly groundbreaking cookbook. Here are 250 superb recipes arranged in a uniquely useful way: a basic recipe and four increasingly sophisticated variations, with each group (there are 50 groups in all) based on a given technique. This ingenious organization enables cooks of all levels of expertise to understand how a recipe is created and to re-create the brilliantly simple recipes and dazzling variations from one of our best food writers and home cooks teamed with one of America's greatest chefs.
About the Author
Vongerichten studied under such culinary masters as Paul Bocuse, Paul Haeberlin, and Louis Outhier. He owns restaurants in London and New York, including Jean-Georges, awarded four stars by The New York Times.

MARK BITTMAN is one of America s beloved, best-known and most widely respected food writers. He covered food policy as an Opinion columnist for The New York Times for 5 years, produced "The Minimalist" column for 13 years, and has starred in several popular television series, including the Emmy-winning Years of Living Dangerously. He recently left the Times to devote his time to cookbooks, teaching at Berkeley, and working on food movement strategy with the Union of Concerned Scientists. He also co-founded Purple Carrot, the national company that delivers weekly vegan meal kits. Bittman has authored more than a dozen cookbooks, including the best-selling How to Cook Everything(r), How to Cook Everything(r) The Basics, How to Cook Everything(r) Vegetarian (all available as apps), How to Cook Everything(r) Fast, Food Matters, and VB6: Eat Vegan Before 6:00. For more information go to markbittman.com.