Great Wine Made Simple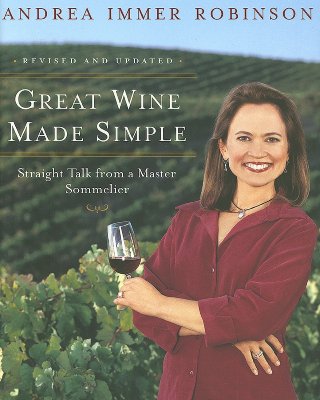 Great Wine Made Simple
Straight Talk from a Master Sommelier
Broadway Books, Hardcover, 9780767904780, 326pp.
Publication Date: September 27, 2005
* Individual store prices may vary.
Buy at Local Store
Enter your zip code below to purchase from an indie close to you.
or
Buy Here
Description
From Master Sommelier Andea Immer Robinson, a newly updated edition of her by-now classic introduction to wine, Great Wine Made Simple: Straight Talk from a Master Sommelier, reflects up-to-the minute wine trends, including the burgeoning popularity of the Shiraz grape, new flavor maps, and much, much more.
First published in 2000, Great Wine Made Simple established Andrea Immer Robinson as America's favorite wine writer. Avoiding the traditional and confusingly vague wine language of bouquet and nose, and instead discussing wine in commonsense terms.
Now, thoroughly revised, Great Wine Made Simple lives up to its title by making selecting and enjoying wine truly simple. With Andrea Immer Robinson as your guide, you will never again have to fear pricey bottles that don t deliver, snobby wine waiters, foreign terminology, or encyclopedic restaurant wine lists. You ll be able to buy or order wine with confidence--and get just the wine you want--by learning how the Big Six basic styles (which comprise 80 percent of today's top selling wines) taste and how to read any wine label. Ten new flavor maps show what tastes you can expect from climates around the world.
Andrea Immer Robinson genuinely knows more about wine than most wine lovers could ever hope to learn. But she doesn t believe that you have to join a stuffy, exclusive wine-tasting set, or study a lot, to become a savvy wine buyer. Unlike other wine guides, Great Wine Made Simple makes it easy to master the ins and outs of choosing a wine that you and your guests will love on any budget.
In her down-to-earth style, Andrea guides you through follow-along-at-home wine tastings that are easy, fun, and affordable, and even suggests a milk tasting for understanding variations in wine-body style. Building on this foundation, she covers the rest of the wine landscape with her inimitable style, candor, and humor, from classic regions to new tastes, plus a bevy of practical issues like wine gear and proper storage. A refreshing blend of in-depth knowledge and accessibility, Great Wine Made Simple is a welcome resource for those who are intrigued by wine but don t know where to start.
About the Author
One of only a small group of women in the world to qualify as a Master Sommelier, ANDREA IMMER ROBINSON is the former Dean of Wine Studies at the French Culinary Institute in New York City, and was named James Beard Foundation Wine and Spirits Professional of the Year in 2002. She was the host of the Fine Living Network s Simply Wine with Andrea Immer, a columnist for Esquire magazine, and is the author of several other wine-related books, including a cookbook for wine lovers, Everyday Dining with Wine: 125 Wonderful Recipes to Match and Enjoy with Wine."
Praise For Great Wine Made Simple…
"Andrea Immer makes wine education simple and fun. One of America's bestsommeliers has written one of the year's best wine books!"—Robert G. Mondavi

"Without doubt the finest introduction to wine tasting and food and wine pairing I have read. This book is an excellent addition to the libraries of both professionals and aficionados."—Frederick Dame, M.S., president, Court of Master Sommeliers

"Well organized, succinct, clear, and precise are the adjectives that best describe this Cartesian book on wines. Great Wine Made Simple will educate you without boring you and will lead you joyfully and expertly through the intricate world of the master sommelier."—Claudine Pépin and Jacques Pépin