The Broken Hearth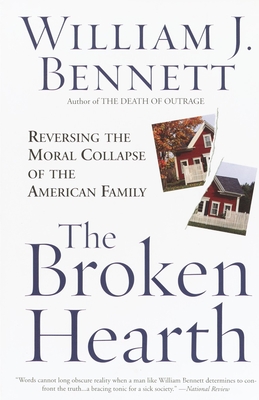 The Broken Hearth
Reversing the Moral Collapse of the American Family
Broadway Books, Paperback, 9780767905138, 208pp.
Publication Date: March 18, 2003
* Individual store prices may vary.
Buy Now
or
Shop Local
Enter your zip code below to purchase from an indie close to you.
Description
Bestselling author William Bennett addresses the central social issue of our time—the deline of the family—in a book as intellectually provocative and politically controversial as his landmark The Death of Outrage.

Our recent economic prosperity has masked the devastation of the American family, which is now under seige as never before. From the dramatic rise in illegitimacy, divorce, and single parenthood to the call for the recognition of gay marriages, the traditional nuclear family is being radically challenged and undermined, along with the moral and legal consensus that once supported it.

Now in The Broken Hearth, William Bennett, America's foremost conservative spokesperson on matters of family values, presents a strong, well-reasoned, and informed defense of the traditional family. Interweaving history, anthropology, law, social science, and the teachings of Western religions, he argues that marriage between a man and a woman and the creation of a permanent, loving, and nurturing environment for children is a great historical achievement, one that should not be lightly abandoned in favor of more "progressive" arrangements. Bennett displays his ability to combine fearless conviction, acute insight, and respect for his adversaries in thorough, balanced, and enlightening discussions of single parenthood, cohabitation, gay marriage, and other trends that are undercuttingthe ideal of the family as the essential foundation of society.

Looking closely at the concerns and questions that divide America, Bennett provides a powerful affirmation of family life and the values and benefits it bestows on individuals and on society as a whole.
About the Author
William J. Bennett served as Director of the Office of National Drug Control Policy under President George H. W. Bush and as Secretary of Education and Chairman of the National Endowment for the Humanities under President Reagan. He holds a bachelor of arts degree in philosophy from Williams College, a doctorate in political philosophy from the University of Texas, and a law degree from Harvard. He is the author of such bestselling books as "The Educated Child", "The Death of Outrage", "The Book of Virtues", and the two-volume series "America: The Last Best Hope". Dr. Bennett is the host of the nationally syndicated radio show "Bill Bennett's Morning in America". He is also the Washington Fellow of the Claremont Institute and a regular contributor to CNN. He, his wife, Elayne, and their two sons, John and Joseph, live in Maryland.