Girl Singer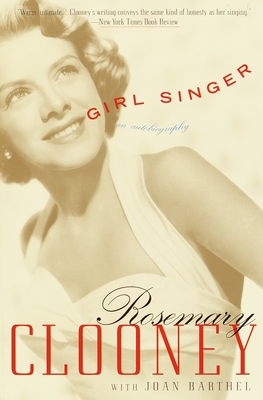 Girl Singer
An Autobiography
Three Rivers Press (CA), Paperback, 9780767905558, 368pp.
Publication Date: October 9, 2001
* Individual store prices may vary.
Buy at Local Store
Enter your zip code below to purchase from an indie close to you.
or
Buy Here
Description
In Girl Singer, Rosemary Clooney, with the warmth and humor that distinguishes her singing, describes her transformation from a schoolgirl in kneesocks to one of the most beloved singers of the twentieth century. Rosemary Clooney made her first public appearance at the age of three, on the stage of the Russell Theater in her tiny hometown of Maysville, Kentucky. She has been singing ever since: on the local radio; with Tony Pastor's orchestra; in big-box-office Hollywood films; at the London Palladium, Carnegie Hall; on her own television series; and at venues large and small around the world. The list of her friends and intimates reads like a Who's Who of show business royalty: Bing Crosby, Frank Sinatra, Marlene Dietrich, Tony Bennett, and Billie Holiday, to name just a few.

At twenty-five, she married the erudite and respected actor José Ferrer, sixteen years her senior and light-years more sophisticated. Trouble started almost immediately when, on her honeymoon, she discovered that he had already been unfaithful. Finally, after having five children while she virtually single-handedly supported the entire family and his numerous, unrepentant infidelities, she filed for divorce. From there her life spiraled downward into depression, addiction to various prescription drugs, and then, in 1968, a breakdown and hospitalization. After years spent fighting her way back to the top--with two albums at the top of the Billboard charts in six years--Clooney is married to her long-lost love--a fairy tale with a happy ending.
About the Author
Clooney's rise to fame came in the 1940's, and she still is an American Music Treasure who is popular with all age groups. She also lives in Beverly Hills, California.

JOAN BARTHEL is the author of "A Death in Canaan, "which spent many weeks on the bestseller list and was made into a CBS TV movie that was nominated for an Emmy Award. Following "A Death in Canaan, "Barthel wrote "A Death in California "and collaborated with Rosemary Clooney on "Girl Singer." Barthel has written profiles of celebrities for such publications as "The New York Times Magazine "and "The Washington Post Magazine." She lives in St. Louis, Missouri.
Praise For Girl Singer…
Early Praise for Girl Singer:

"Hearing Rosemary Clooney sing is like a taste of honey; reading her book is a full and delicious meal."
--Stanley Donen

"A beautiful book. A beautiful American dream of a life, plus a large hunk of nightmare, plus the story of contemporary American popular music."
--Betty Comden

"To know Rosemary Clooney is to love her. After reading this book, you will, too."
--Tony Bennett

"Rosie dear, you've got it all. You've had it all. You must read this book to know it all."
--Dolores Hope

"Rosemary Clooney is one of the great singers of our time, a truly wonderful comedienne on and off the stage, and as good a friend as you could hope for. Girl Singer brings out all these qualities--and many more."
--Margaret Whiting

"Girl Singer is an extraordinary and heartbreaking book. This was my time in Hollywood, as it was Rosie's, and it brought back a lot of memories."
--Joanne Woodward

"A great singer and a great lady, Rosemary Clooney now adds another jewel to her crown, that of great memoirist.  She gives us the best picture we have of an often misunderstood era in popular music, and she lets us see the exactitude of celebrity and the bounty it places on the soul."
--Gary Giddins, author of Visions of Jazz: The First Century

"Rosemary Clooney has been the outstanding girl singer of our century. Her autobiography is the vivid depiction of a fascinating life. I loved it!"
--Kathryn Crosby

"With all due respect, there just aren't any more like her. As I have said before, she is the person I would love to live next door to."
--Maria Cole

"Girl Singer is startlingly honest and beautifully written. At times, this book will break your heart, but throughout, it will open your heart."
--Gavin de Becker, author of The Gift of Fear

"Not only is Rosemary Clooney 'Girl Singer'--she is 'Girl Everywoman.' In other words, she is one hell of a person--and the book tells us all why."
--Janet Leigh

"Just as Rosemary's voice has a unique, unforgettable quality all its own, so does her autobiography. In my book, she stands alone. A true American treasure."
--Ann Rutherford

"Rosemary Clooney's eyes are illuminated by intelligence and mischief. Like her music, she is without guile or self-promotion. Amidst the hubbub of her stories, there are hints of longing, of missing people who nourished her in special intimate ways. These vanished citizens are the motors of the songs. In her autobiography, they are revealed and revered. And of course there's the mischief and the music."
--Jonathan Schwartz

"This book is a must for all who have loved the talent of Rosemary Clooney over the years as I have. The essence of this wonderful lady is captured beautifully within these pages."
--RoseMarie