Back Sense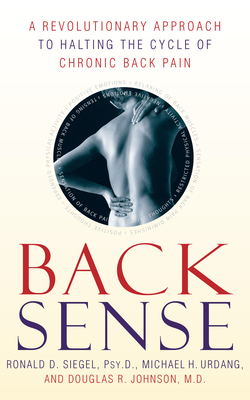 Back Sense
A Revolutionary Approach to Halting the Cycle of Chronic Back Pain
Harmony, Paperback, 9780767905817, 256pp.
Publication Date: April 9, 2002
* Individual store prices may vary.
Buy at Local Store
Enter your zip code below to purchase from an indie close to you.
or
Buy Here
Description
On occasion nearly everyone experiences short-term back pain from sore or strained muscles. But for many who come to treat their back gingerly because they fear further "injury," a cycle of worry and inactivity results; this aggravates existing muscle tightness and leads them to think of themselves as having a "bad back." Even worse is the understandable but usually counterproductive assumption that back pain is caused by "abnormalities" bulging disks, a damaged spine, and so on. However, these abnormalities are frequently found in those who have absolutely no pain whatsoever. In reality, most backs are strong and resilient, built to support our bodies for a lifetime; truly "bad backs" are rare.
Drawing on their work with patients and studies from major scientific journals and corporations, the authors "of" "Back" "Sense "all three are former chronic back pain sufferers themselves developed a revolutionary self-treatment approach targeting the true causes of chronic back pain. It is based on conclusive evidence proving that stress and inactivity are usually the prime offenders, and it allows patients to avoid the restrictions and expense of most other treatments. After showing readers how to rule out the possibility that a rare medical condition is the source of their problem, "Back" "Sense" clearly and convincingly explains the actual factors behind chronic back pain and systematically leads readers toward recapturing a life free of back pain.
About the Author
Sameet M. Kumar, Ph.D. is a psychologist at the Memorial Healthcare System Cancer Institute in south Broward, Florida with over a decade of experience in working with end-of-life and bereavement. He is also the author of the best-selling Grieving Mindfully: A Compassionate and Spiritual Guide to Coping with Loss, as well as The Mindful Path Through Worry and Rumination.

Isobel Fitzgerald O'Connor studied for her medical degree at Charing Cross and Westminster Medical School. She has a BSc in Histopathology and Basic Medical Sciences. She qualified as a doctor in 2000 from Imperial College School of Medicine.
Isobel has had house jobs in London at Chelsea and Westminster Hospital, then as an SHO on the surgical rotation at Guy's and St Thomas's Hospitals. Isobel started her career in ENT surgery in Oxford and Reading before gaining an ENT national training number in South East Thames. Michael Urdang
studied at Charing Cross and Westminster Medical School. He has a BSc in Anatomy with research into orbital fractures. Michael qualified in 2000 from Imperial College School of Medicine. He has held house jobs in Norwich and Jersey, and began a rotation in Surgery at St Mary's in 2002. He gained
MRCS in June 2004. Michael left the UK to train in emergency medicine in June 2005 at the University of Southern California, USA.


Johnson is a physician and a board-certified specialist in physical medicine and rehabilitation. He is the medical director of the inpatient rehabilitation unit at Charlton Memorial Hospital and also maintains a private practice in physiatry.
Praise For Back Sense…
"I highly recommend this wonderful book to everyone with back pain. The first of my patients who read it got out of bed and off narcotics for the first time in months. We're both thrilled."
–Christiane Northrup, M.D., author of Women's Bodies, Women's Wisdom and The Wisdom of Menopause

"Back Sense is a well-researched, well-written, and approachable book. I can testify to its efficacy, both as a patient and a practitioner: this approach works."
–David K. Urion, M.D., Associate Professor of Neurology, Harvard Medical School