Fraud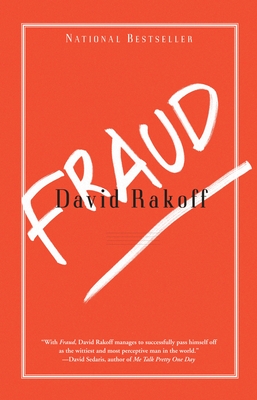 Fraud
Essays
Anchor Books, Paperback, 9780767906319, 240pp.
Publication Date: April 23, 2002
* Individual store prices may vary.
Buy at Local Store
Enter your zip code below to purchase from an indie close to you.
or
Buy Here
Description
From This American Life alum David Rakoff comes a hilarious collection that single-handedly raises self-deprecation to an art form. Whether impersonating Sigmund Freud in a department store window during the holidays, climbing an icy mountain in cheap loafers, or learning primitive survival skills in the wilds of New Jersey, Rakoff clearly demonstrates how he doesn't belong–nor does he try to. In his debut collection of essays, Rakoff uses his razor-sharp wit and snarky humor to deliver a barrage of damaging blows that, more often than not, land squarely on his own jaw–hilariously satirizing the writer, not the subject. Joining the wry and the heartfelt, Fraud offers an object lesson in not taking life, or ourselves, too seriously.
About the Author
David Rakoff is a writer-at-large for "GQ" magazine, and a regular contributor to "The New York Times Magazine" and Public Radio International's "This American Life," He has also written for "Outside," "Vogue," "The New York Observer," and "Salon," among others. He lives in New York City.
"From the Hardcover edition."
Praise For Fraud…
"Combining journalistic tenacity, literary smarts, and a talent for gut-busting one-liners, Rakoff reports on his wilted salad days . . . His blend of withering wit and self-effacing humor makes these essays soar." –Entertainment Weekly

"Rakoff possesses a sociologist's eye for places where today's consoling myths reside."
–New York Times

"David Rakoff's Fraud showcases his rapier wit, slashing in all directions with slice-of-life insights and cutting remarks, sometimes nicking himself with self-deprecation in his dexterous duello with the American experience." –Publishers Weekly (starred review)

"Rakoff likes to paint himself as urbane to a fault, an outsider anywhere unpaved. But then, in the woods or on a mountaintop, he reveals himself, despite his searing and hilarious observations, to be a completely unrelenting romantic."
–Dave Eggers, author of A Heartbreaking Work of Staggering Genius

"David Rakoff's hilarious, bittersweet stories are epic struggles–between smoky bars and the great outdoors, management and labor, Santa Claus and Sigmund Freud, New York versus everywhere else, and, not least, neighbor-to-the-North against South. Rakoff is such an American original it turns out he's Canadian. Vive the brain drain!"
-Sarah Vowell, author of Take the Cannoli