What Keeps Me Standing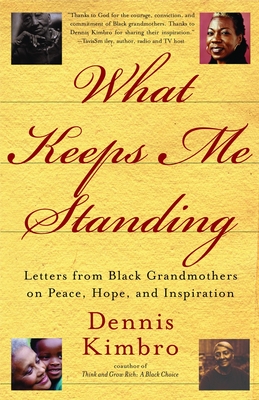 What Keeps Me Standing
Letters from Black Grandmothers on Peace, Hope and Inspiration
Broadway Books, Paperback, 9780767912389, 288pp.
Publication Date: April 5, 2005
* Individual store prices may vary.
Shop Local
Enter your zip code below to find indies closest to you.
Description
In his previous bestsellers, "Think and Grow Rich"and "What Makes the Great Great," Dennis Kimbro revealed the success secrets of highly touted entrepreneurs, corporate climbers, and Olympic athletes, as well as famous black Americans from George Washington Carver to Bill Cosby, Oprah Winfrey, and Jesse Jackson. In "What Keeps Me Standing, "he turns to another group of sages and mentors: the grandmothers who have long been the backbone of the African American family and community.
Over a period of five years, Kimbro contacted one thousand grandmothers--women from a wide range of backgrounds and locations--asking, "If you had to write a one page letter to your children or the next generation, what would you tell them about life?" Their answers, collected here, show that success in life cannot be measured in terms of wealth and material goods alone. The lives they describe and the advice they proffer capture both a richness in spirit and a strong belief in the power of every individual to take charge of his or her own destiny. In the face of racism, both blatant and subtle, financial struggles, and personal setbacks, black grandmothers have helped their communities in thousands of tangible and intangible ways, providing support, inspiration, and love not only to their own children and grandchildren but also to neighbors, friends, and extended families.
Filled with examples of how even the smallest acts of kindness and compassion can make a difference in the world, What Keeps Me Standing is a treasure trove of the wisdom that comes with years of experience, transformation, and growth. It is the perfect gift.
"From the Hardcover edition.
About the Author
Dr. Kimbro is known as one of the most insightful and scholarly writers in the field today. As a lecturer & researcher in the field of management, entrepreneurship & human potential, he encourages his readers to look within to extract the keys that underlie all accomplishment. Dr. Kimbro studied the methodology of Napoleon Hill, author of Think and Grow Rich. Dr. Kimbro decided to do what Hill had done in the 1930's. He developed a survey to use among peak performing black Americans. Two years later, he learned from the Hill Foundation, that Hill himself, had drafted a book in 1970 that explored the identical question and had written nearly 100 pages on the subject, which turned out to be his last. The Hill Foundation commissioned, Dr. Kimbro to update and complete Hill's original manuscript. Think and Grow Rich: A Black Choice, the results of Dr. Kimbro's and Hill's efforts, distills the secrets of success contained in the lives of peak performing men & women.
Praise For What Keeps Me Standing…
"This is a sage and inspiring collection that passes on words of wisdom, faith, and support." —Booklist

"This book is a concise guide to life's most probing questions about love, self-fulfillment, and more. It's a perfect gift for any reader, especially on Mother's Day, graduations, and birthdays." —Upscale

"Sage advice and inspirational stories from grandmothers across the country and from all walks of life . . . their words are moving." —Today's Black Woman