The Catholic Girl's Guide to Sex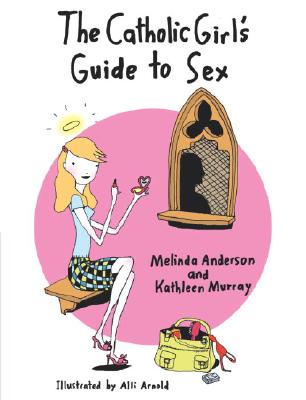 The Catholic Girl's Guide to Sex
Harmony, Paperback, 9780767913034, 208pp.
Publication Date: September 9, 2003
* Individual store prices may vary.
Buy at Local Store
Enter your zip code below to purchase from an indie close to you.
or
Buy Here
Description
The essential handbook for managing your morals the modern way
You don't have to be Catholic to feel a twinge of concern when your love life gets too lively--but it helps. Melinda Anderson and Kathleen Murray to the rescue They provide guidance from your first impure thoughts to the day you cash in your V-card; from the moment you realize with alarm that your numbers sure are adding up, until the blessed morning you wake in the (almost) safe haven of marital sex. This saucy little catechism covers such burning concerns as:
-Choosing between your hormones and Him
-The intimidating world of self-love
-Etiquette tips for the confessional
-The new Catholic Math: Sex with an ex, an atheist, or a Protestant doesn't count. Were you really, really drunk or was it really, really bad? Doesn't count either.
"The Catholic Girl's Guide to Sex" is here to help you enjoy your inevitable fall from grace.
About the Author
MELINDA ANDERSON and KATHLEEN MURRAY live in New York City. They pray for forgiveness.

George R. Murray, CPA, is an accountant with more than 45 years experience. He has been in private practice since 1991, specializing in taxation, litigation support, and consulting services for small businesses and start-ups.
Kathleen Murray, CPA, has a degree in accounting and a Masters in journalism. Her articles have appeared in the "New York Times, Washington Post, Time," and "Forbes," among other publications.

Alli Arnold graduated from Parsons School of Design and has illustrated for clients such as Travel & Leisure Magazine, the New York Times, Barneys New York, Kate Spade, Tiffany & Co., and Bergdorf Goodman. Alli happily resides in the Old Northeast of St. Petersburg, Florida, but often travels back to her beloved New York City to recharge her batteries.
Praise For The Catholic Girl's Guide to Sex…
"Speaking as someone who was named after a saint who chose to die rather than give up her virginity, I can relate to The Catholic Girl's Guide to Sex. I wish this guide had been around when I was in high school! I went to Catholic school for eleven years and I'm telling you, The Catholic Girl's Guide to Sex is one funny, sexy book."
--Barbara Keesling, author of The Good Girl's Guide to Bad Girl Sex.

"When I was growing up Catholic I recall that two of the great mysteries of Catholic life were: "What is the third secret of Fatima?" and "Do Catholic girls do it?" Of course I wasn't sure what "it" was. Thank heaven for Melinda Anderson and Kathleen Murray; a couple of very now Catholic girls not afraid to be funny, honest, and sexy. And you thought Bridget Jones had problems?"
--Richard Glen Michael Davis, co-author of Growing Up Catholic

"A very funny and dirty book, and shockingly comprehensive. (You might have to issue it with a plain brown wrapper!) I had no idea that Catholic girls had THAT much guilt to deal with; until I read The Catholic Girl's Guide to Sex, I thought Jewish girls were the guiltiest."
--Lisa Birnbach, author of The Official Preppy Handbook

"Wish I'd read this sooner."
--Cynthia Rowley, fashion designer and author of SWELL: A Girl's Guide to the Good Life