Don't Get Too Comfortable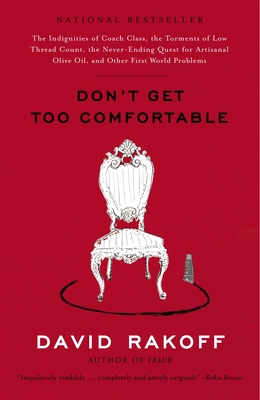 Don't Get Too Comfortable
The Indignities of Coach Class, the Torments of Low Thread Count, the Never-Ending Quest for Artisanal Olive Oil, and
Broadway Books, Paperback, 9780767916035, 222pp.
Publication Date: September 12, 2006
* Individual store prices may vary.
Buy at Local Store
Enter your zip code below to purchase from an indie close to you.
or
Buy Here
Description
David Rakoff takes us on a bitingly funny grand tour of our culture of excess. Whether he is contrasting the elegance of one of the last flights of the supersonic Concorde with the good-times-and-chicken-wings populism of Hooters Air; working as a cabana boy at a South Beach hotel; or traveling to a private island off the coast of Belize to watch a soft-core video shoot where he is provided with his very own personal manservant rarely have greed, vanity, selfishness, and vapidity been so mercilessly skewered. Somewhere along the line, our healthy self-regard has exploded into obliterating narcissism; our manic getting and spending have now become celebrated as moral virtues. Simultaneously a Wildean satireand a plea for a little human decency, " Don t Get Too Comfortable" shows that far from being bobos in paradise, we re in a special circle of gilded-age hell.
About the Author
David Rakoff is a writer-at-large for "GQ" magazine, and a regular contributor to "The New York Times Magazine" and Public Radio International s "This American Life." He has also written for "Outside," "Vogue," "The New York Observer," and "Salon," among others. He lives in New York City."
Praise For Don't Get Too Comfortable…
"If I were to die suddenly while the reading of this book were in my recent memory, I would probably beg to be reincarnated as a bird so that I could eat seed out of Rakoff's hand. I can't write a more loving review than that." —Pop Matters

"A cannily satirical tour guide."
—The New York Times Book Review


"The pleasures of reading what results when an exceedingly sharp pen encounters an exceedingly inviting target are not to be denied, and Rakoff offers many such delights in these pages."
—Washington Post

"The belly laughs start on page 7 and occur regularly throughout Rakoff's frequently impertinent, occasionally irascible, yet always inimitable take on contemporary American society."
—Booklist

"Rakoff's strength is the turn of phrase that deftly and wittily dissects its subject at a stroke."
—Chicago Tribune
Friday, Aug 10, 2012
Known for his sobering honesty and biting wit, David Rakoff said it was healthy to employ "a certain kind of clear-eyed examination of the world as it is." Rakoff died Thursday in New York City after a long battle with cancer. He was 47. More at NPR.org