How I Paid for College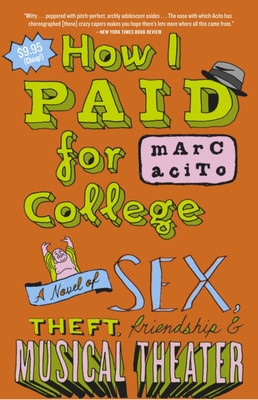 How I Paid for College
A Novel of Sex, Theft, Friendship & Musical Theater
Broadway Books, Paperback, 9780767918541, 276pp.
Publication Date: August 2, 2005
* Individual store prices may vary.
Buy at Local Store
Enter your zip code below to purchase from an indie close to you.
or
Buy Here
Description
A deliciously funny romp of a novel about one overly theatrical and sexually confused New Jersey teenager's larcenous quest for his acting school tuition.
It's 1983 in Wallingford, New Jersey, a sleepy bedroom community outside of Manhattan. Seventeen-year-old Edward Zanni, a feckless Ferris Bueller type, is Peter Panning his way through a carefree summer of magic and mischief. The fun comes to a halt, however, when Edward's father remarries and refuses to pay for Edward to study acting at Juilliard.
Edward's truly in a bind. He's ineligible for scholarships because his father earns too much. He's unable to contact his mother because she's somewhere in Peru trying to commune with Incan spirits. And, as a sure sign he's destined for a life in the arts, Edward's incapable of holding down a job. So he turns to his loyal (but immoral) misfit friends to help him steal the tuition money from his father, all the while practicing for his high school performance of "Grease." Disguising themselves as nuns and priests, they merrily scheme their way through embezzlement, money laundering, identity theft, forgery, and blackmail. But, along the way, Edward also learns the value of friendship, hard work, and how you re not really a man until you can beat up your father metaphorically, that is.
"How I Paid for College" is a farcical coming-of-age story that combines the first-person tone of David Sedaris with the byzantine plot twists of Armistead Maupin. It is a novel for anyone who has ever had a dream or a scheme, and it marks the introduction to an original and audacious talent.
About the Author
MARC ACITO's debut novel, "How I Paid for College, "won the Ken Kesey Award for the Novel and was also selected as an Editors' Choice by the" New York Times," Acito is a popular contributor to the" New York Times" and National Public Radio's "All Things Considered," He lives in Portland, Oregon.
Praise For How I Paid for College…
"Marc Acito's rollicking first novel is, by turns, sweet, sexy, and outrageous. Powered by the author's devious imagination, the story shows us a handful of teenagers driven to larceny, embezzlement, and impersonation—all in the name of higher education. Beneath the story's beguiling shtick, though, is a more serious issue—the complications inherent in the difficult business of becoming ourselves. A great graduation gift."

—Jennifer Finney Boylan, author of She's Not There

"Witty... peppered with pitch-perfect, archly adolescent asides... The ease with which Acito has choreographed [these] crazy capers makes you hope there's a lot more where all this came from."

—New York Times Book Review

"Acito has fantastic narrative chops, writing funny, fast, and satisfying chapters... This is a book for mature readers that reminds us what a blast immaturity can be."

—People

"Like the class clown willing to do anything for a laugh, [How I Paid for College is] funny, entertaining, and ultimately endearing."

—Details

"A coming-of-age, coming-out tale that escapes triteness and predictability thanks to Acito's eye for the absurd truth."

—TimeOut New York

"Dazzling... a thumbs-up winner from a storyteller whose future looks as bright as that of his young hero."

—Publishers Weekly (starred review)