The Rock Snob's Dictionary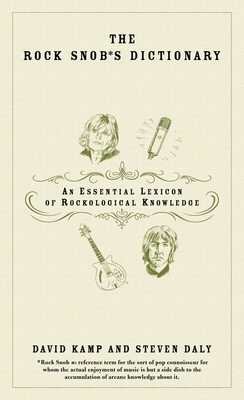 The Rock Snob's Dictionary
An Essential Lexicon of Rockological Knowledge
Three Rivers Press (CA), Paperback, 9780767918732, 176pp.
Publication Date: April 12, 2005
* Individual store prices may vary.
Buy at Local Store
Enter your zip code below to purchase from an indie close to you.
or
Buy Here
Description
At last An A-to-Z reference guide for readers who want to learn the cryptic language of Rock Snobs, those arcana-obsessed people who speak of "Rickenbacker guitars" and "Gram Parsons."
We've all been there--trapped in a conversation with smarty-pants music fiends who natter on about "the MC5" or "Eno" or "the Hammond B3," not wanting to let on that we haven't the slightest idea what they're talking about. Well, fret no more "The Rock Snob's Dictionary" is here to define "every single sacred totem "of rock fandom's know-it-all fraternity, from Alt.country to Zimmy. (That's what Rock Snobs call Bob Dylan, by the way.)
About the Author
DAVID KAMP is a writer and editor for" Vanity Fair" and the author of" The United States of Arugula,"" The Food Snob's Dictionary, The Film Snob's Dictionary," and" The Rock Snob's Dictionary," DAVID LYNCH is a James Beard Award-winning writer, sommelier, and restaurant manager, having served as wine director and general manager of Babbo Ristorante for seven years. Both authors live in New York City. ROSS MACDONALD's illustrations have appeared in many magazines, from" The New Yorker" to" The Wall Street Journal."

DAVID KAMP has been a writer for" Vanity Fair and" GQ for over a decade, and began his career at" Spy, the satirical New York monthly. STEVEN DALY is a "Vanity Fair contributing editor, and in a previous life was a rock musician in his native Glasgow, playing drums for the band Orange Juice. Kamp and Daly live in New York City.