The Film Snob's Dictionary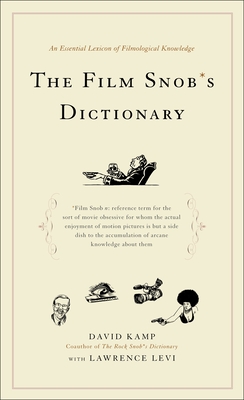 The Film Snob's Dictionary
An Essential Lexicon of Filmological Knowledge
Broadway Books, Paperback, 9780767918763, 144pp.
Publication Date: February 1, 2006
* Individual store prices may vary.
Buy at Local Store
Enter your zip code below to purchase from an indie close to you.
or
Buy Here
Description
From the same brain trust that brought you "The Rock Snob*s Dictionary," the hilarious, bestselling guide to insiderist rock arcana, comes "The Film Snob*s Dictionary," an informative and subversively funny A-to-Z reference guide to all that is held sacred by Film Snobs, those perverse creatures of the repertory cinema. No longer must you suffer silently as some clerk in a Tod Browning's "Freaks" T-shirt bombards you with baffling allusions to wire-fu pictures, Todd-AO process, and Sam Raimi. By helping to close the knowledge gap between average moviegoers and incorrigible Snobs, the dictionary lets you in on hidden gems that film geeks have been hoarding (such as Douglas Sirk and Guy Maddin movies) while exposing the trash that Snobs inexplicably laud (e.g., most chop-socky films and Mexican wrestling pictures). Delightfully illustrated and handily organized in alphabetical order for quick reference, "The Film Snob*s Dictionary" is your fail-safe companion in the video store, the cineplex, or wherever insufferable Film Snobs congregate.
About the Author
DAVID KAMP is a writer and editor for" Vanity Fair" and the author of" The United States of Arugula,"" The Food Snob's Dictionary, The Film Snob's Dictionary," and" The Rock Snob's Dictionary," DAVID LYNCH is a James Beard Award-winning writer, sommelier, and restaurant manager, having served as wine director and general manager of Babbo Ristorante for seven years. Both authors live in New York City. ROSS MACDONALD's illustrations have appeared in many magazines, from" The New Yorker" to" The Wall Street Journal."


Praise For The Film Snob's Dictionary…
"A witty, often devastatingly funny, ultra-sophisticated guide for the uninitiated, the would-be cinephile's equivalent to decrypting the Rosetta Stone. Even I had no idea that Clint Howard was a cult figure." —Bruce Goldstein, Repertory Program Director, Film Forum (New York) and founder, Rialto Pictures