The Texas Cowboy Cookbook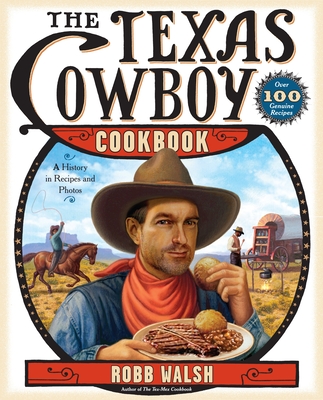 The Texas Cowboy Cookbook
A History in Recipes and Photos
Broadway Books, Paperback, 9780767921497, 256pp.
Publication Date: April 10, 2007
* Individual store prices may vary.
Buy at Local Store
Enter your zip code below to purchase from an indie close to you.
or
Buy Here
Description
Texas cowboys are the stuff of legend immortalized in ruggedly picturesque images from Madison Avenue to Hollywood. Cowboy cooking has the same romanticized mythology, with the same oversimplified reputation (think campfire coffee, cowboy steaks, and ranch dressing). In reality, the food of the Texas cattle raisers came from a wide variety of ethnicities and spans four centuries.
Robb Walsh digs deep into the culinary culture of the Texas cowpunchers, beginning with the Mexican vaqueros and their chile-based cuisine. Walsh gives overdue credit to the largely unsung black cowboys (one in four cowboys was black, and many of those were cooks). Cowgirls also played a role, and there is even a chapter on Urban Cowboys and an interview with the owner of Gilley's, setting for the John Travolta--Debra Winger film.
Here are a mouthwatering variety of recipes that include campfire and chuckwagon favorites as well as the sophisticated creations of the New Cowboy Cuisine:
Meats and poultry: sirloin guisada, cinnamon chicken, coffee-rubbed tenderloin
Stews and one-pot meals: chili, gumbo, fideo con carne
Sides: scalloped potatoes, onion rings, pole beans, field peas
Desserts and breads: peach cobbler, sourdough biscuits, old-fashioned preserves
Through over a hundred evocative photos and a hundred recipes, historical sources, and the words of the cowboys (and cowgirls) themselves, the food lore of the Lone Star cowboy is brought vividly to life.
About the Author
Winner of three James Beard Awards, Robb Walsh is the author of ten books, including Legends of Texas Barbecue Cookbook: Recipes and Recollections from the Pit Bosses; The Tex-Mex Cookbook: A History in Recipes and Photos; and Texas Eats: The New Lone Star Heritage Cookbook, with More Than 200 Recipes. He has written for Gourmet, Saveur, and Fine Cooking and has also been a commentator on National Public Radio's Weekend Edition, Sunday. In 2010, Walsh cofounded a nonprofit organization called Foodways Texas to preserve and promote Texas food culture.
Praise For The Texas Cowboy Cookbook…
"The Texas cowboy is so central to American culture that even cowboys themselves buy into the mythology. Instead of settling for the usual chuckwagon tales, Robb Walsh has sorted out the facts with a clear eye and passed along the myths with a warm heart. He also serves up lots of the surprisingly tasty fare that Texas cowboys--black and white, Anglo and Hispanic, male and female--really cooked. The result is a cookbook that widens horizons."

—John Thorne, author of Outlaw Cook and Serious Pig

"A Western saga of a cookbook with wild and delicious stories, photos, and recipes. It feels like a collaboration by John Wayne, Larry McMurtry, and Emiliano Zapata."

—Davia Nelson & Nikki Silva, NPR's Kitchen Sisters