Stuck in the Middle with You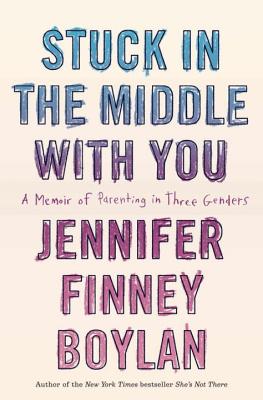 Stuck in the Middle with You
A Memoir of Parenting in Three Genders
Crown Publishing Group (NY), Hardcover, 9780767921763, 284pp.
Publication Date: April 30, 2013
* Individual store prices may vary.
Buy at Local Store
Enter your zip code below to purchase from an indie close to you.
or
Not Currently Available for Direct Purchase
Description
"New York Times" bestseller and acclaimed author Jennifer Finney Boylan returns with a remarkable memoir about gender and parenting, including incredible interviews discussing gender, how families are shaped, and the difficulties and wonders of being human.
A father for ten years, a mother for eight, and for a time in between, neither, or both ("the parental version of the schnoodle, or the cockapoo"), Jennifer Finney Boylan has seen parenthood from both sides of the gender divide. When her two children were young, Boylan came out as transgender, and as Jenny transitioned from a man to a woman and from a father to a mother, her family faced unique challenges and questions. In this thoughtful, tear-jerking, hilarious memoir, Jenny asks what it means to be a father, or a mother, and to what extent gender shades our experiences as parents. "It is my hope," she writes, "that having a father who became a woman in turn helped my sons become better men."
Through both her own story and incredibly insightful interviews with others, including Richard Russo, Edward Albee, Ann Beattie, Augusten Burroughs, Susan Minot, Trey Ellis, Timothy Kreider, and more, Jenny examines relationships with fathers and mothers, people's memories of the children they were and the parents they became, and the many different ways a family can be. Followed by an Afterword by Anna Quindlen that includes Jenny and her wife discussing the challenges they've faced and the love they share, "Stuck in the Middle with You" is a brilliant meditation on raising and on being a child.
About the Author
Jennifer Finney Boylan is the author of more than a dozen books, including a bestselling memoir, a collection of short stories entitled Remind Me to Murder You Later, and three novels for adults. Her novel Getting In won the Alex Award from the American Library Association in 1998 for an adult novel with special appeal to young adult readers. Since 1988 she has been a professor of English at Colby College.
Jenny Boylan lives at the end of a dirt road in Maine with a Sasquatch, a wind elemental, two weredogs, and a leprechaun.
ANNA QUINDLEN is the author of several bestselling novels ("Rise and Shine, Blessings, Object Lessons, One True Thing, Black and Blue"), and nonfiction books ("Good Dog. Stay., Being Perfect, Loud & Clear, A Short Guide to a Happy Life, Living Out Loud, Thinking Out Loud, How Reading Changed My Life"). She has also written two children's books ("The Tree That Came to Stay, Happily Ever After"). Her "New York Times" column "Public and Private" won the Pulitzer Prize in 1992. Her column now appears every other week in "Newsweek".
Praise For Stuck in the Middle with You…
"[A] warm, engaging memoir...This informal investigation and her touchingly funny and always candid story work together to reveal the book's ultimate truth: that 'to accept the wondrous scope of gender is to affirm the vast potential of life in all its messy, unfathomable beauty'...Genuinely insightful through and through." —Kirkus

"Boylan illuminates diverse family relationships and the many ways families operate fluidly on a seemingly never-ending spectrum. This unique and giving book has tremendous resonance." —Booklist

"Stuck in the Middle also comes with vivid observations....Boylan remains a role model for her brisk prose and her high spirits as well as for her public advocacy and attention to her wife and their sons." —Los Angeles Times

"Boylan enlists different perspectives by writers and others to explore in depth how parenting involves much more than birthing...Boylan records in engaging short narratives her complicated process of evolving as a parent, from being a father ("Jim") for six years, a mother for 10, and throughout embracing a 'flexible' and 'openhearted' approach that has proven remarkably successful and long-lasting. Boylan writes honestly about the enormous toll her transitioning took on the family, the sense of 'loss' they all suffered when she became a woman in 2000, the anxieties she and Deedee felt over the children's reaction to public censure, dread that the kids harbored their own dark secrets, and annoyance at other people's inability to use the right pronoun." —Publishers Weekly

"No other memoirist I've read so perfectly blends intimacy and witty remove, soul-searching and slapstick, joy and pain. As a child—or as a reader—one could not ask for a wiser, warmer, more engaging companion than Jennifer Finny Boylan." —Mary Roach, author of Stiff and Packing for Mars

"Parents will recognize the basics here: The days go on forever; the years fly by; the heart is gripped by an aching, terrified love. The fact that Boylan changes her gender along the way—father of babies becomes mother of teenagers—does not make this memoir a cabinet of curiosities. It's a family love story, bighearted and fearlessly funny. 'To accept the wondrous scope of gender,' Boylan writes, 'is to affirm the vast potential of life, in all its messy, unfathomable beauty.' And her story, interspersed with celebrity interviews on parenting, is messy and beautiful indeed. In the end...as Boylan's mother puts it, 'love will prevail.'"
—More Magazine