The Strong Horse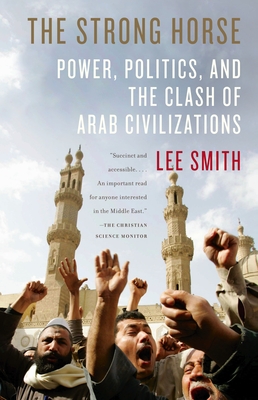 The Strong Horse
Power, Politics, and the Clash of Arab Civilizations
Anchor Books, Paperback, 9780767921800, 239pp.
Publication Date: January 11, 2011
* Individual store prices may vary.
Buy at Local Store
Enter your zip code below to purchase from an indie close to you.
or
Buy Here
Description
In this provocative and timely book, Middle East expert Lee Smith overturns long-held Western myths and assumptions about the Arab world, offering advice for America's future success in the region.
Seeking the motivation behind the September 11 attacks, Smith moved to Cairo, where he discovered that the standard explanation a clash of East and West was simply not the case. Middle East conflicts have little to do with Israel, the United States, or the West in general, but are endemic to the region. According to Smith's Strong Horse Doctrine, the Arab world naturally aligns itself with strength, power, and violence. He argues that America must be the strong horse in order to reclaim its role there, and that only by understanding the nature of the region's ancient conflicts can we succeed.
Smith details the three-decades-long relationship between Egyptian President Hosni Mubarak and the United States, and gives a history of the Muslim Brotherhood, which would likely play an important role in the formation of a new government in Egypt. He also discusses Lebanon, where tipping the balance against Hezbollah in favor of pro-democracy, pro-US forces has become imperative, as a special tribunal investigates the assassination of former Lebanese Prime Minister Rafiq Hariri.
Eye-opening and in-depth, "The Strong Horse "is much needed background and perspective on today's headlines.
About the Author
Lee Smith is the author of fifteen previous books of fiction- three collections of short stories and a dozen novels, including the bestsellers "Fair and Tender Ladies" and "The Last Girls", winner of the Southern Book Critics Circle Award for fiction. The recipient of the 1999 Academy Award in Fiction from the American Academy of Arts and Letters, she lives in Hillsborough, North Carolina.
Praise For The Strong Horse…
"Succinct and accessible. . . . An important read for anyone interested in the Middle East."
—The Christian Science Monitor
 
"Masterful. . . . A unique and vital addition to the current debate on the Middle East."
—The Jerusalem Post
 
"In-depth. . . . Provocative. . . . Worth a few evenings of serious reading. . . . "Smith writes clearly and tersely, and his respect and affection for his Arab friends in the Middle East come through clearly."
—St. Louis Post-Dispatch
 
"[Smith] treats us to beautifully written portraits of his Arab friends, individuals who illustrate far better than finely wrought theory the difficulties of practical reform."
—The New York Times Book Review
 
"Lively. . . . Illuminating. . . . An amalgam of travel journalism, memoir, popular history, and policy-musing. . . . The Strong Horse avoids policy prescriptions—a dime a dozen in books about the Middle East—and instead relies on a series of sharply observed episodes, deftly arranged to demonstrate a civilization in perpetual crisis."
—Commentary
 
"[Smith] has drawn some interesting—and in some respects encouraging—conclusions in this fascinating, complicated, eloquent study. . . . [He] makes a compelling case that the United States must understand the ancient conflicts and enmities that animate the Arabs, but must also understand that America, alone among world powers, is uniquely qualified to guide the Arab world out of its troubled past. . . . This is a plea, in effect, for confident, assertive American leadership in the Arab Middle East."
—The Weekly Standard
 
"Excellent. . . . An entertaining yet deep and important analysis. . . . Smith's simple and near-universal principle provides a tool to comprehend the Arabs' cult of death, honor killings, terrorist attacks, despotism, warfare, and much else." —Daniel Pipes, National Review
 
"Fascinating. . . . [Smith] should be lauded for his commitment and careful research. The book is compelling, well written and worth a read even—or perhaps especially—by those who would disagree with the author."
—Publishers Weekly
 
"A bold and significant book that refreshingly rejects the conventional wisdom about the Middle East."
—Reason Magazine
 
"The arguments put forward [by Smith] are desperately needed as an antidote to the lock step shibboleths and conventional wisdom that form the basis of much of the scholarship of U. S. Middle East studies. Much of the conventional wisdom that forms the basis of our understanding of the Arab world is challenged here, and rightly so."
—American Diplomacy
 
"Blunt. . . . Bracing. . . . Helps to puncture the naïveté of the anti-American Left, liberal internationalists, and prodemocratization conservatives."
—Claremont Review of Books
 
"The Strong Horse is hard to describe and even harder to put down. Lee Smith has concocted an addictive and original brew of reportage, memoir, and political analysis that casts the Middle East and its relations with the 'Great Satan' in a fresh and fascinating light. Writing about his meetings with everyone from Omar Sharif to Natan Sharansky, he delivers one shrewd insight after another. Anyone seeking to understand the world's most volatile region should read this timely and entertaining book."
—Max Boot, Jeane J. Kirkpatrick Senior Fellow for National Security Studies at the Council on Foreign Relations and author of Savage Wars of Peace: Small Wars and the Rise of American Power and War Made New: Technology, Warfare, and the Course of History, 1500 to Today
 
"Lee Smith is a free-thinker in an age of herd mentalities. The Strong Horse is a powerful book—trenchant, shrewd, informed, vivid, provocative, and full of a wisdom that is not the conventional wisdom."
—Paul Berman, author of Terror and Liberalism
 
"In The Strong Horse, Lee Smith lets readers see beyond the stereotypes by which Western academics have misunderstood, and Western governments have mishandled, the Middle East. Based on wide-ranging conversations in the Arab world as well as on a dispassionate understanding of its intellectual and political history, he shows how the tribal nature of Arab societies combines with Islam to produce a way of life in which force is the ultimate argument. The Strong Horse is a fascinating journey from Cairo's cafes to the Gulf's business offices, to Lebanon and Syria's countryside, and into the region's seminal literature."
—Angelo M. Codevilla, Professor emeritus of international relations, Boston University
 
"Lee Smith is the rarest of Middle East commentators, an observer without any ax to grind, whose book is a hammer shattering many of the blithe pieties about the Middle East that prevail in academia, government, and the media."
—Peter Theroux, former Director of Persian Gulf Affairs, National Security Council, and author of Sandstorms: Days and Nights in Arabia
 
"A chronicle of one American's journey to the Middle East in search of an answer to the question "why 9/11?", The Strong Horse offers a fascinating depiction of a culture so different from our own that it is a challenge for us to understand just how great this difference is. Lee Smith has faced this challenge, and the insights he offers require nothing less than a radical paradigm shift in American thinking about the Middle East. If we wish to shape history, and not be run over by it, there is no better place to start than by reading Lee Smith's beautifully crafted and deeply moving journey of discovery."
—Lee Harris, author of Suicide of Reason: Radical Islam's Threat to the West and Civilization and Its Enemies: The Next Stage of History