The Afghan Campaign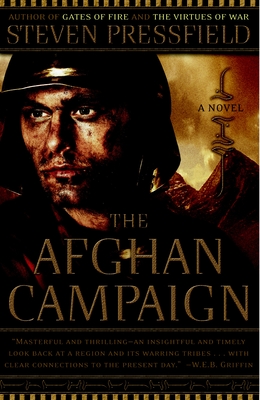 The Afghan Campaign
Broadway Books, Paperback, 9780767922388, 354pp.
Publication Date: June 5, 2007
* Individual store prices may vary.
Buy Now
or
Shop Local
Enter your zip code below to purchase from an indie close to you.
Description
2,300 years ago an unbeaten army of the West invaded the homeland of a fierce Eastern tribal foe. This is one soldier's story . . .
The bestselling novelist of ancient warfare returns with a riveting historical novel that re-creates Alexander the Great's invasion of the Afghan kingdoms in 330 b.c.
In a story that might have been ripped from today's combat dispatches, Steven Pressfield brings to life the confrontation between an invading Western army and fierce Eastern warriors determined at all costs to defend their homeland. Narrated by an infantryman in Alexander's army, " The Afghan Campaign" explores the challenges, both military and moral, that Alexander and his soldiers face as they embark on a new type of war and are forced to adapt to the methods of a ruthless foe that employs terror and insurgent tactics. An edge-of-your-seat adventure, " The Afghan Campaign" once again demonstrates Pressfield's profound understanding of the hopes and desperation of men in battle and of the historical realities that continue to influence our world.
About the Author
Steven Pressfield has been an enthusiastic golfer since the age of ten. He is the author of the novel Gates of Fire and a well-known screenwriter whose screenplays include "Above the Law" and "Freejack." He lives in the Los Angeles area.
Praise For The Afghan Campaign…
"Pressfield has done it again. The Afghan Campaign is yet another gripping historical novel . . . Although set in ancient times, Pressfield's narration of the Macedonians' efforts reveals remarkable parallels to later efforts by the Romans, British, Soviets, and Americans . . . an intense, fun, and thought-provoking read. It belongs on your shelf."
—T. X. Hammes, Marine Corps Gazette
"Pressfield's scholarly skills are part and parcel of his impressive talent for re-creating the visceral, scalp-carving, lance-in-back horror of ancient battle."
—USA Today

"Fasinating . . . As Patrick O'Brien's prose seemed to encapsulate the feel of the Napoleonic-era warship, Pressfield's crisp and eloquent style reconstitutes the ancient battlefield."