Idiot America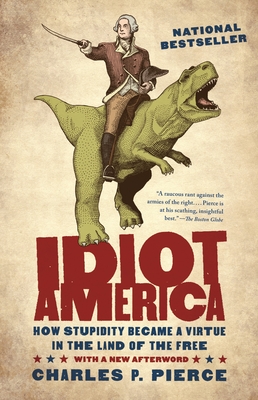 Idiot America
How Stupidity Became a Virtue in the Land of the Free
Anchor Books, Paperback, 9780767926157, 307pp.
Publication Date: May 4, 2010
* Individual store prices may vary.
Buy at Local Store
Enter your zip code below to purchase from an indie close to you.
or
Buy Here
Description
NATIONAL BESTSELLER

The three Great Premises of Idiot America:
· Any theory is valid if it sells books, soaks up ratings, or otherwise moves units
· Anything can be true if someone says it loudly enough
· Fact is that which enough people believe. Truth is determined by how fervently they believe it
 
With his trademark wit and insight, veteran journalist Charles Pierce delivers a gut-wrenching, side-splitting lament about the glorification of ignorance in the United States.
 
Pierce asks how a country founded on intellectual curiosity has somehow deteriorated into a nation of simpletons more apt to vote for an American Idol contestant than a presidential candidate. But his thunderous denunciation is also a secret call to action, as he hopes that somehow, being intelligent will stop being a stigma, and that pinheads will once again be pitied, not celebrated. Erudite and razor-sharp, Idiot America is at once an invigorating history lesson, a cutting cultural critique, and a bullish appeal to our smarter selves.
About the Author
On the staff of "The Boston Globe Sunday Magazine "and a regular panelist on NPR s "It s Only a Game", Charles P. Pierce has written for, among others, "Sports Illustrated, GQ, "and "Esquire". He is the author of the books "Sports Guy", "Hard to Forget: An Alzheimer's Story", "Moving the Chains: Tom Brady and the Pursuit of Everything" and "Idiot America: How Stupidity Became a Virtue in the Land of the Free".
Praise For Idiot America…
"A raucous rant against the armies of the right. . . . Pierce is at his scathing, insightful best."
—The Boston Globe
 
"A lively and, dare I say, intelligent study of the ongoing assault on gray matter."
—Stephen Amidon, The New York Observer
 
"[A] witty and pointed indictment of our nation's disturbing ability to vilify smart people and elevate chowderheads to positions of power and influence."
—The Salt Lake Tribune

"For a good (if painful) laugh about creationism and other bits of American lunacy, try Charles Pierce's Idiot America. It's a funny, sly version of an argument made recently by Al Gore in The Assault on Reason, and by the brilliant Susan Jacoby in The Age of American Unreason."
—John A. Farrell, USNews.com
 
"There is only one Charles Pierce, and while that may be a good thing, it is also a damn good thing we have his unique combination of gonzo, erudition, fearlessness, and eloquence to help us make sense of a senseless world. I stand in awe, and appreciation."
—Eric Alterman, author Why We're Liberals and When Presidents Lie
 
"Pierce penetrates, and the world feels less idiotic already."
—Roy Blount Jr., author of Alphabet Juice and Long Time Leaving
 
"Charles Pierce takes us on a brilliant and hilarious tour of the back roads of American idiotocracy through history—skewering Atlantis-seekers, evolution deniers, jackasses, nincompoops, and right-wing know-it-alls with his trademark sledgehammer wit. Reading Pierce's Idiot America, I laughed myself stupid."
—Amy Dickinson, author of The Mighty Queens of Freeville
 
"Engaging. . . . Pierce delivers a rapier-sharp rant on how the America of Franklin and Edison, Fulton and Ford has devolved into America the Uninformed."
—Publishers Weekly
 
"There's a guy down at the end of the bar who's furiously angry, hilariously funny, and has an Irish poet's talent for language. He's been traveling the country, and he's been alternately appalled and moved by what he's found there, and, lucky you, he wants to tell you all about it. Listen."
—Peter Sagal, author of The Book of Vice and host of NPR's Wait, Wait, Don't Tell Me