Mark Bittman's Quick and Easy Recipes from the New York Times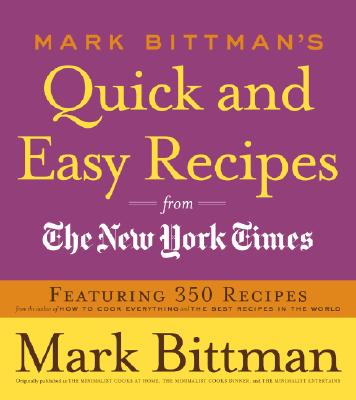 Mark Bittman's Quick and Easy Recipes from the New York Times
Featuring 350 Recipes from the Author of How to Cook Everything and the Best Recipes in
Broadway Books, Paperback, 9780767926232, 340pp.
Publication Date: May 22, 2007
* Individual store prices may vary.
Shop Local
Enter your zip code below to find indies closest to you.
Description
Mark Bittman's New York Times column, "The Minimalist," is one of the most frequently clipped parts of the paper's Dining section. For Bittman's millions of fans who regularly pore over their clippings, here is reason to rejoice: A host of Bittman's wonderfully delicious and easy recipes, 350 in all, are now available in a single paperback.
In sections that cover everything from appetizers, soups, and sauces to meats, vegetables, side dishes, and desserts, Mark Bittman's Quick and Easy Recipes from The New York Times showcases the elegant and flexible cooking style for which Bittman is famous, as well as his deep appreciation for fresh ingredients prepared with minimal fuss. Readers will find tantalizing recipes from all over, each requiring little more than basic techniques and a handful of ingredients. Cold Tomato Soup with Rosemary, Parmesan Cups with Orzo Risotto, Slow-Cooked Ribs, Pumpkin Panna Cotta—the dishes here are perfect for simple weeknight family meals or stress-free entertaining.
Certain to appeal to anyone—from novices to experienced cooks—who wants to whip up a sophisticated and delicious meal easily, this is a collection to savor, and one destined to become a kitchen classic.
About the Author
Mark Bittman is one of America s best-known and most widely respected food writers. He covers food policy, cooking, and eating as an Opinion columnist for The New York Times and the paper s Sunday Magazine. He produced "The Minimalist" column for 13 years and has starred in several popular Public Television cooking series. Now a frequent public speaker, he appears regularly on the Today Show and is a guest on a wide range of television and radio shows. Bittman has authored more than a dozen cookbooks, including How to Cook Everything(r) The Basics, How to Cook Everything(r), How to Cook Everything(r) Vegetarian (all available as apps), Food Matters and The Food Matters Cookbook, and the new VB6: Eat Vegan Before 6:00. For more information go to markbittman.com.
Praise For Mark Bittman's Quick and Easy Recipes from the New York Times…
"Mark Bittman's quick and easy recipes are much more than that, a definitive collection that takes as little as a half hour and results in truly remarkable food. That alone should empower you to drive past the take-out place and do some cooking."
—Mario Batali

"Some cooks enjoy giving the impression that their work requires esoteric language and complicated skills. Mark Bittman is just the opposite. He is devoted to making it clear that great food can be created with few ingredients and a minimum of effort."
—John Willoughby and Chris Schlesinger, coauthors of The Thrill of the Grill and License to Grill


"Mark Bittman makes great everyday cooking and eating possible in a harried world. He is a master of streamlining good food down to its essence without losing a jot of taste. Mark understands and loves exceptional food and enjoys cooking it. Under his tutelage, we can, too."
-Lynne Rossetto Kasper, host of The Splendid Table® on PBS and author of The Italian Country Table