Fathers and Sons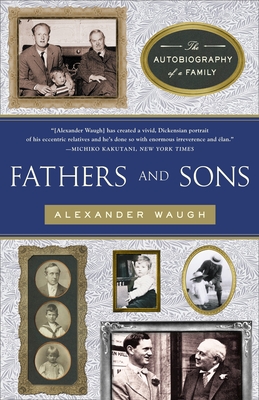 Fathers and Sons
The Autobiography of a Family
Broadway Books, Paperback, 9780767927482, 472pp.
Publication Date: May 13, 2008
* Individual store prices may vary.
Buy at Local Store
Enter your zip code below to purchase from an indie close to you.
or
Buy Here
Description
If there is a literary gene, then the Waugh family most certainly has it—and it clearly seems to be passed down from father to son. The first of the literary Waughs was Arthur, who, when he won the Newdigate Prize for poetry at Oxford in 1888, broke with the family tradition of medicine. He went on to become a distinguished publisher and an immensely influential book columnist. He fathered two sons, Alec and Evelyn, both of whom were to become novelists of note (and whom Arthur, somewhat uneasily, would himself publish); both of whom were to rebel in their own ways against his bedrock Victorianism; and one of whom, Evelyn, was to write a series of immortal novels that will be prized as long as elegance and lethal wit are admired. Evelyn begat, among seven others, Auberon Waugh, who would carry on in the family tradition of literary skill and eccentricity, becoming one of England's most incorrigibly cantankerous and provocative newspaper columnists, loved and loathed in equal measure. And Auberon begat Alexander, yet another writer in the family, to whom it has fallen to tell this extraordinary tale of four generations of scribbling male Waughs.

The result of his labors is Fathers and Sons, one of the most unusual works of biographical memoir ever written. In this remarkable history of father-son relationships in his family, Alexander Waugh exposes the fraught dynamics of love and strife that has produced a succession of successful authors. Based on the recollections of his father and on a mine of hitherto unseen documents relating to his grandfather, Evelyn, the book skillfully traces the threads that have linked father to son across a century of war, conflict, turmoil and change. It is at once very, very funny, fearlessly candid and exceptionally moving—a supremely entertaining book that will speak to all fathers and sons, as well as the women who love them.
About the Author
Alexander Waugh was born in 1963, and is the grandson of Evelyn Waugh, and a son of columnist Auberon Waugh and novelist Teresa Waugh. After studying music at Manchester University, he became Chief Opera Critic at the "Mail on Sunday" and the "London Evening Standard". He has written several books on music, including" Classical Music: A New Way of Listening", which has been translated into fourteen languages. He is also a publisher, cartoonist, composer, and illustrator. He lives in Somerset, England, with his wife and three children.
Praise For Fathers and Sons…
"A very great book."—Robert Harris

Praise for the British edition of Fathers and Sons:

"A wonderful critical-loving job…a stupendous story." —V.S. Naipaul

"Literary skill really does seem to be hereditary....Altogether an extraordinary story, admirably told, which leaves you thinking at the end what a remarkable family the Waughs are." —Geoffrey Wheatcroft, Daily Mail

"A remarkable work of family history, exceptional for its honesty, inventiveness, humour and for the beguiling individuality of its author's voice…Alexander Waugh proves himself outrageously graceful and accomplished with a talent that needs no help at all from his illustrious forebearers." –Selina Hastings, Literary Review

"All fathers and sons should read it." –Humphrey Carpenter, Sunday Times

"Told with humour and panache, with considerable inside knowledge and a perception that makes this remarkable chronicle a delight to read." –Spectator

"Waugh relights the family's literary torch…Huge fun." –Tatler

"Written with wit, great shrewdness and without a trace of sentimentality." –William Boyd, Guardian