Blue Genes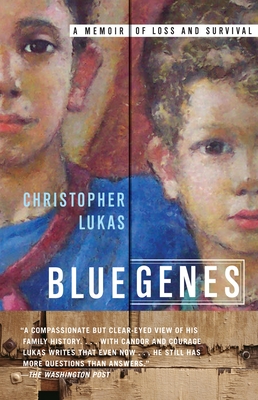 Blue Genes
A Memoir of Loss and Survival
Anchor Books, Paperback, 9780767929011, 248pp.
Publication Date: October 6, 2009
* Individual store prices may vary.
Buy at Local Store
Enter your zip code below to purchase from an indie close to you.
or
Buy Here
Description
Christopher (Kit) Lukas's mother committed suicide when he was a boy. He and his brother, Tony, were not told how she died. No one spoke of the family's history of depression and bipolar disorder. The brothers grew up to achieve remarkable success; Tony as a gifted journalist (and author of the classic book, Common Ground), Kit as an accomplished television producer and director. After suffering bouts of depression, Kit was able to confront his family's troubled past, but Tony never seemed to find the contentment Kit had attained he killed himself in 1997. Written with heartrending honesty, Blue Genes captures the devastation of this family legacy of depression and details the strength and hope that can provide a way of escaping its grasp.
About the Author
CHRISTOPHER LUKAS has worked as a writer-producer-director in public and commercial television and won Emmy Awards for his programs. He is the author and coauthor of five books. Lukas has two grown daughters, and lives near New York City where he is continuing to make films, write books, and work as a film and stage actor.
Praise For Blue Genes…
"A compassionate but clear-eyed view of his family history. . . . With candor and courage Lukas writes that even now . . . he still has more questions than answers." —Washington Post

"Lukas movingly describes what it was like to grow up the child of a suicide. . . . His story will resonate with readers who have lost friends or family members." —USA Today

"Fascinating." —Harper's

"Poignant." —New York Observer

"A harrowing tale, told with some restraint and sorrow." —Pittsburgh Post-Gazette

"This is a book that makes you feel you should call the author and ask him to reassure you that he is O.K. . . . [Lukas] has held on to life and to the story of a lifetime." —The New York Times Book Review

"A harrowing tale, told with some restraint and sorrow. . . . [Lukas] coped for better or worse with the sense of abandonment all his life, including the disappearance of his brilliant older brother, lost to demons of his own." —Pittsburgh Post-Gazette

"Christopher Lukas' mother killed herself when he was 6. His brother, journalist J. Anthony Lukas, committed suicide 56 years later—but only after the author's grandmother, aunt, and uncle took their lives as well. . . . For fans of William Styron's Darkness Visible." —Entertainment Weekly

"This gentle story is a reminder that stopping such family legacies requires candor and courage. . . . [Suicide] is an accusation of all we did not do and a loss of all that was there. Lukas attempts to remedy both in this book, by bringing his family story into the light." —Portland Oregonian

"In his searingly candid memoir, [Lukas] provides an anatomy of melancholy, examining the mysteries of bipolar disorder, acknowledging a lifelong fight with his own demons, and grieving over those who could not emerge from the dark night of the soul. . . . Blue Genes is more than an apt title; for those who are no strangers to the heritage of sadness, it's an invaluable survivor's manual." —Stefan Kanfer, City Journal