Half Empty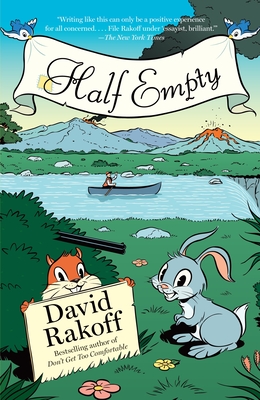 Half Empty
Anchor Books, Paperback, 9780767929059, 224pp.
Publication Date: September 6, 2011
* Individual store prices may vary.
Buy at Local Store
Enter your zip code below to purchase from an indie close to you.
or
Buy Here
Description
In this deeply smart and sneakily poignant collection of essays, the bestselling author of Fraud and Don't Get Too Comfortable makes an inspired case for always assuming the worst—because then you'll never be disappointed. Whether he's taking on pop culture phenomena with Oscar Wilde-worthy wit or dealing with personal tragedy, Rakoff's sharp observations and humorist's flair for the absurd will have you positively reveling in the untapped power of negativity.
About the Author
David Rakoff is the author of the books "Fraud "and "Don't Get Too Comfortable." A two-time recipient of the Lambda Literary Award, he is a regular contributor to Public Radio International's "This American Life." His writing has appeared in the "New York Times, Newsweek," "Wired," "Salon," "GQ," "Outside," "Gourmet," "Vogue," "Slate," "Harper"'"s Bazaar," and the "New York Observer," among other publications, and has been included in "Da Capo's Best Music Writing," "The Best American Travel Writing "as well as "The Best American Non-Required Reading." He can be seen in the movies "Capote" (fleetingly), "Strangers with Candy "(fleetingly; mutely), and, most recently, he adapted the screenplay for and starred in Joachim Back's film "The New Tenants," which won the 2010 Oscar for Best Live Action Short.
Praise For Half Empty…
"Writing like this can only be a positive experience for all concerned. . . .  File Rakoff under 'essayist, brilliant.'" —The New York Times 
 
"Some people believe in the power of positive thinking. The rest of us believe in David Rakoff." —Daily Candy 
 
"Tough, suave, dry, and very funny." —The Paris Review
 
"Rakoff wanders among our cultural myths, piercing them with a finely sharpened sarcasm. . . . As Rakoff tenderly probes his fears, he makes clear that for all his detachment, he is part of our tribe. He's just funnier than most of us." —The Miami Herald
 
"A pure pleasure to read." —The Observer's Very Short List
 
"One of our funniest writers." —People
 
"Right now, this country is brimming over with kindness—some real, some feigned. It is wit, unfeigned, that is gasping for air. . . . For the sake of the future, come back soon, David Rakoff." —San Francisco Chronicle

"Full of wit." —NPR, "Fresh Air"
 
"Rakoff can issue a withering snark with the best of them. But once his rapier wit has sliced the buttons off his target's clothing, revealing the quivering, vulnerable mass within, his fundamental sense of decency gets the best of him." —Salon
 
"Half Empty balances its darker aspects with wickedly amusing takes on a variety of subjects." —The Toronto Star

"If you love the personal essay, you'll love David Rakoff's musings." —The Baltimore Sun
 
"Rakoff is so keenly observant and dead-on with his criticism, you get the impression most of our eyes would cross and cartoon birds fly above our heads before we could make it halfway to the elegant, smart conclusions he draws. . . . A writerly collection to make giddy even the most erudite lover of words. An undisputed KO for negative thinking." —Booklist
 
"Rakoff manages to make pessimism sexy. . . . While Rakoff seems to revel in his role as a modern-day Thomas Hobbes, it's evident that he remains responsible in his critique, never trouncing a subject without provocation while simultaneously opening the reader's eyes to everyday lunacy." —Kirkus Reviews


Friday, Aug 10, 2012
Known for his sobering honesty and biting wit, David Rakoff said it was healthy to employ "a certain kind of clear-eyed examination of the world as it is." Rakoff died Thursday in New York City after a long battle with cancer. He was 47. More at NPR.org
Friday, Oct 7, 2011
Writer David Rakoff's received the 2011 Thurber Prize for American Humor for his essay collection Half Empty. In the book, Rakoff explains the powers of pessimistic thought as he analyzes topics such as a pornography trade fair, his neurotic childhood and his recent cancer diagnosis. More at NPR.org