Circle of Greed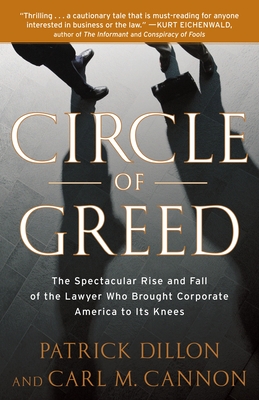 Circle of Greed
The Spectacular Rise and Fall of the Lawyer Who Brought Corporate America to Its Knees
Broadway Books, Paperback, 9780767929950, 532pp.
Publication Date: April 12, 2011
* Individual store prices may vary.
Buy Now
or
Shop Local
Enter your zip code below to purchase from an indie close to you.
Description
"Circle of Greed" is the epic story of the rise and fall of Bill Lerach, once the leading class action lawyer in America and now a convicted felon. For more than two decades, Lerach threatened, shook down and sued top Fortune 500 companies, including Disney, Apple, Time Warner, and most famously Enron. Now, the man who brought corporate moguls to their knees has fallen prey to the same corrupt impulses of his enemies, and is paying the price by serving time in federal prison.
If there was ever a modern Greek tragedy about a man and his times, about corporate arrogance and illusions and the scorched-earth tactics to not only counteract corporate America but to beat it at its own game, Bill Lerach's story is it.
"From the Hardcover edition.
About the Author
Patrick Dillon is a writer and award-winning architect. He is the author of 7 books, including Truth, Lies, The Much-Lamented Death of Madam Geneva, and The Last Revolution. Patrick Dillon has been fascinated by Homer s epic poem The Odyssey since studying it at school, and has traveled extensively in Greece. He lives in London with his family, dividing his time between writing and architecture.

Carl M. Cannon is a staff correspondent of "The National Journal." Lou Dubose is the co-author, with Molly Ivins, of "Shrub: The Short But Happy Political Life of George W. Bush," He was the editor of the "Texas Observer" for eleven years and worked briefly as politics editor of "The Austin Chronicle," Jan Reid is an award-winning novelist and magazine journalist. His most recent book is a much-praised memoir of Texas and Mexico, "The Bullet Meant for Me," He is a veteran observer and analyst of Texas politics.
Praise For Circle of Greed…
"John Grisham would have to struggle to invent a character as brilliant and unethical as Bill Lerach. It is a credit to the reporting talents of Patrick Dillon and Carl M. Cannon that, in "Circle of Greed," they capture the felon-lawyer in all his charm and ruthlessness. Along the way they show how the plaintiffs' bar has transformed the process of class actions into big business."
— Wall Street Journal
 
"[A] revelatory yarn . . . In "Circle of Greed," the authors do justice to their subject and have produced a book that proves the adage that truth can be stranger than fiction."
— Washington Times
 
"Mr. Dillon and Mr. Cannon have written the type of book that, like "Den of Thieves" and "Smartest Guys in the Room," helps to explain an era."
— NYTimes.com/DealBook
 
"In Circle of Greed , this compelling narrative becomes an irresistible metaphor for the hubris at the heart of capitalism . . . Lerach is lucky to have Pulitzer Prize-winning journalists Patrick Dillon and Carl Cannon as his chroniclers. They tell his tale with an authority and depth that comes from having followed his career since the late 1970s. . .  Amid the entertaining knockabout and big personalities, the authors raise important questions about how the rule of law should work in a capitalist democracy."
— Financial Times
 
 "[R]iveting . . . Telling this complex story is a tricky business, but Circle of Greed is up to the task: it is impressively researched and well paced, and offers reporting, not editorializing, leaving the reader to form his or her own judgments."
— Washington Monthly


"A well-reported, densely written saga" --Kirkus Reviews

"In modern corporate America, the swashbuckling captains of industry have long been the primary characters exposed in the public storytelling. But now, Patrick Dillon and Carl Cannon have stripped away the veneer of a lawyer who made his name as the business world's chief adversary, Bill Lerach. In Circle of Greed, Dillon and Cannon present a painstakingly researched and entertaining tale of a legal dynamo who seemed able to root out any corporate crime, but then became enmeshed in frauds of his own. Lerach had it all, then lost it all because of his own greed and arrogance. In this thrilling book, Dillon and Cannon have unwound the character of this perplexing man, presenting a cautionary tale that is must-reading for anyone interested in business or the law."

--Kurt Eichenwald, author of The Informant and Conspiracy of Fools