Bob Dylan in America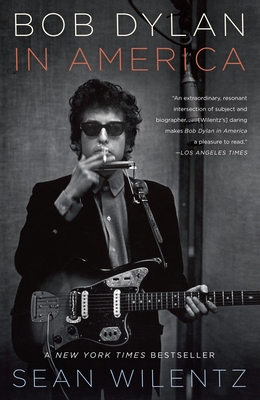 Bob Dylan in America
Anchor Books, Paperback, 9780767931793, 396pp.
Publication Date: October 4, 2011
* Individual store prices may vary.
Buy Now
or
Shop Local
Enter your zip code below to purchase from an indie close to you.
Description
Sean Wilentz discovered Bob Dylan's music as a teenager growing up in Greenwich Village. Now, almost half a century later, he revisits Dylan's work with the skills of an eminent American historian as well as the passion of a fan.
 
Beginning with Dylan's explosion onto the scene in 1961, Wilentz follows the emerging artist as he develops a body of work unique in America's cultural history. Using his unprecedented access to studio tapes, recording notes, and rare photographs, he places Dylan's music in the context of its time and offers a stunning critical appreciation of Dylan both as a songwriter and performer.
 
About the Author
Sean Wilentz, a professor of history at Princeton University, is the author or editor of seven books, including "Chants Democratic" and "The Rise of American Democracy". He has also written for" The New York Times", the "Los Angeles Times", "The New Republic", and other publications. He lives in Princeton, New Jersey.
Praise For Bob Dylan in America…
"Wilentz's book stands apart . . . in the lucidity of its prose, the rigor of its research and convincing originality of the place he assigns his subject in the context of American cultural history. . . . Here is scholarship that successfully slips the bonds of specialty and pretension." —Los Angeles Times
 
"Author Sean Wilentz combines a lifelong music fan's enthusiasm with a history detective's doggedness to unearth Dylan's entire root system. . . . The book is at once a time-hopping biography; a catalog of Dylan's myriad, eclectic influences . . . and a primer on American music." —The Christian Science Monitor
 
"Not just another biography of the chameleon folkie-rock-star-poet-troubadour. . . . At once deeply felt and historically layered." —The Washington Post Book World

"Among those who write about Dylan, Wilentz possesses the rare virtues of modesty, nuance and lucidity, and for that he should be celebrated and treasured." —The New York Times Book Review 

"A panoramic vision of Bob Dylan, his music, his shifting place in American culture, from multiple angles. In fact, reading Sean Wilentz's Bob Dylan in America is as thrilling and surprising as listening to a great Dylan song." —Martin Scorsese

"Extraordinary. . . . With Wilentz, the world around, and inside the head of, Bob Dylan becomes an aperture into the deeper meaning of the American experience. . . . Wilentz has managed to write both the most important book on American history and the most important book on American music in recent memory." —PopMatters.com
 
"An enjoyably thorough, convincing explanation why Dylan's music has gone on finding new audiences ever since he burst upon the New York folk scene of the early 1960s, fresh from the iron range of northern Minnesota and ferociously ambitious for his art." —Los Angeles Times

"All the American connections that Wilentz draws to explain the appearance of Dylan's music are fascinating, particularly at the outset the connection to Aaron Copland. The writing is strong, the thinking is strong— the book is dense and strong everywhere you look." —Philip Roth

"Passionate and informative." —The New York Review of Books
 
 "A tour de force. . . . By the end, he's masterfully … offer[ed] not so much an image of Dylan's place in America as a carefully calibrated lens with which to see it for yourself." —Newsweek

"Unlike so many Dylan-writer-wannabes and phony 'encyclopedia' compilers, Sean Wilentz makes me feel he was in the room when he chronicles events that I participated in. Finally a breath of fresh words founded in hardcore, intelligent research." —Al Kooper

"[Bob Dylan in America's] unusual structure [is] well-suited to exploring Dylan's career, with its many distinct eras governed by different rules, even different gods. The Dylan of this book is not a troubadour or a trickster or a radical, but an alchemist who never met a snippet of music, writing, or art that he couldn't make his own." —New York Magazine
 
"A reading of Dylan's work within the wider framework of American culture—a [topic] Wilentz . . . tackles with vigor." —The Onion's A.V. Club
 
"Wilentz lays out nuanced arguments on the profound effect Dylan has had on expanding the American consciousness in his five-decade career as a singer and songwriter." —The Newark Star-Ledger
 
"[Wilentz] mixes his history and critical assessments with long, often thrilling accounts of concerts and recording sessions. . . . What this book finally does—this is me, not Wilentz—is establish Dylan as the 20th century's Walt Whitman."—Bryan Appleyard, The Times (London)
 
"Sean Wilentz is one of the few great American historians. His political and social histories of American Democracy are masterful and magisterial…. A masterpiece of cultural history that tells us much about who we have been and who we are." —Cornel West, Class of 1943 University Professor in the Center for African American Studies at Princeton University
 
"Interesting and intelligent." —The Guardian (London) 

 "By focusing on the parts of Dylan's canon that most move him, Wilentz gets straight to the heart of the matter. If you thought there was nothing new to say about Bob Dylan's impact on America, this book will make you think twice." —Bill Flanagan, author of A&R and Evening's Empire and Editorial Director, MTV Networks

"Wilentz combines his deep musical knowledge with the skills of the fine historian to write one of the most important, insightful and revelatory books about America, its culture and its people, as interpreted through the works of one of its greatest artists. His book is a work both of deep scholarship and profound cultural engagement: a rare and marvelous achievement." –Philip King, The Irish Times