The Church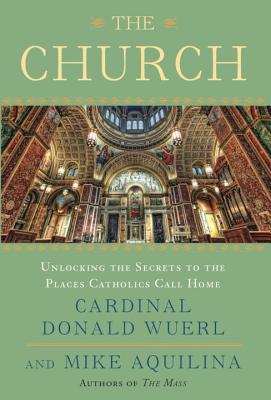 The Church
Unlocking the Secrets to the Places Catholics Call Home
Image, Hardcover, 9780770435516, 227pp.
Publication Date: March 5, 2013
* Individual store prices may vary.
Buy at Local Store
Enter your zip code below to purchase from an indie close to you.
or
Not Currently Available for Direct Purchase
Description
From the bestselling authors of The Mass, an insightful and practical guide that explores the architectural and spiritual components of the Catholic Church.

Your local church is not only a physical place, but a spiritual home. In this thought-provoking book, Wuerl and Aquilina illuminate the importance of the Church in its many guises and examine the theological ideas behind the physical structure of churches, cathedrals, and basilicas. How is a church designed? What is the function of the altar? What does the nave represent? What is the significance of the choir loft? With eloquent prose and elegant black-and-white photography, these questions and many more will lead to answers that illuminate the history and practicality of Catholic life.
About the Author
Cardinal Donald Wuerl is the Archbishop of Washington and the author or coauthor of The Church: Unlocking the Secrets to the Places Catholics Call Home, New Evangelization: Passing on the Catholic Faith Today, and The Mass: The Glory, the Mystery, the Tradition.

Mike Aquilina is the award-winning author of more than forty books on Catholic history, doctrine, and devotion. His works have been translated into many languages. He has hosted nine television series and several documentary films and is a frequent guest on Catholic radio.
Praise For The Church…
"People baptized and alive in Christ are his Church; they gather in buildings called churches.  This well thought out and beautifully presented book tells everyone what our churches are about and why they contain what they do.  I hope it finds a prominent place in RCIA presentations, in religious education programs, on family bookshelves."
-Francis Cardinal George, O.M.I., Archbishop of Chicago

"What the Temple was to the Israelites, our churches are for us Catholics. They are sanctuaries of God's presence -- the meeting place of heaven and earth. This is apparent, however, only to eyes of faith. This book trains our eyes to see the domes and spires, tabernacles and votive candles, pews and altars as they really are. As good guides, the authors take us beyond the visible to the invisible, beyond the material to the spiritual, beyond the human to the divine.  Highly recommended."
-Scott Hahn, author of The Lamb's Supper and Signs of Life

"Read The Church and forever after you will experience your own church in a whole new way—as a sermon in stone, a visual hymn, a catechism without words. This lovely little book by Cardinal Wuerl and Mike Aquilina is truly a mine of information, devotion, and inspiration for all."
-Russell Shaw, journalist and author of Ministry or Apostolate?: What Should the Catholic Laity Be Doing?

"This new book by my esteemed father in the faith, Archbishop Donald Cardinal Wuerl, and my friend, Mike Aquilina, is a wonderful treatment of the Great Amen of the Fathers of the Church and the assent of the Gathered Community of Faith within our houses of worship. Far from being a cold treatment about church architecture, this gem is a crescendo of love as a sacred song of faith rising up to the Father in the Spirit through Christ."
-John Michael Talbot, author of The World is My Cloister

"The Church is a stunning work of art reminding us that every Catholic church is built to tell a love story. Cardinal Donald Wuerl and Mike Aquilina, gleaning from their combined perspectives of behind the altar and from within the pews, offer the reader an extraordinarily unique panoramic view of the Catholic Church. The authors have skillfully dusted off years of Church history and elements of tradition, and tapped into official documents of the Church. Unlocking the theology, mystery and beauty of holiness, they have provided a guided pilgrimage of the structures of churches, furnishings and their historical and biblical roots, inspiring us all to delve deeper into the silent language of holy love." 
 -Donna-Marie Cooper O'Boyle, EWTN TV Host and author of numerous Catholic books including Rooted in Love: Our Calling as Catholic Women