Called to Love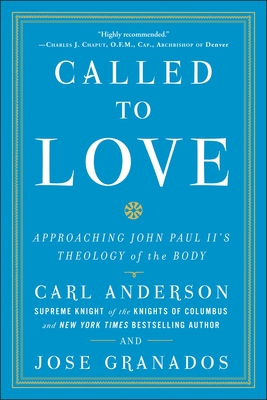 Called to Love
Approaching John Paul II's Theology of the Body
Image, Paperback, 9780770435745, 260pp.
Publication Date: July 31, 2012
* Individual store prices may vary.
Buy Now
or
Shop Local
Enter your zip code below to purchase from an indie close to you.
Description
A thoughtful, accessible work on the beauty of love and the splendor of the body, inspired by Pope John Paul II.

Christianity has long been regarded as viewing the body as a threat to a person's spiritual nature and of denying its sexual dimension. In 1979, Pope John Paul II departed from this traditional dichotomy and offered an integrated vision of the human body and soul. In a series of talks that came to be known as "the theology of the body," he explained the divine meaning of human sexuality and why the body provides answers to fundamental questions about our lives.

In Called to Love, Carl Anderson, chairman of the world's largest catholic service organization, and Fr. Jose Granados discuss the philosophical and religious significance of "the theology of the body" in language at once poetic and profound. As they explain, the body speaks of God, it reveals His goodness, and it also speaks of men and women and their vocation to love. Called to Love brings to life the tremendous gift John Paul II bestowed on humanity and gives readers a new understanding of the Christian way of love and how to embrace it fully in their lives.
About the Author
Carl Anderson is one of the nation's leading experts on teaching writing to students in grades K-12. He dedicates his energies exclusively as an education consultant and writer. Carl recently worked for Teachers College Reading and Writing Project at Columbia University as a Lead Staff Developer, providing staff development in the teaching of writing grades K - 8. He spent school days in New York City elementary and middle schools demonstrating effective teaching in the writing workshop and coaching teachers. He gave day-long workshops for teachers at Teachers College on launching the writing workshop, conferring with student writers, mini-lessons, and developing curriculum for the writing workshop. As a national consultant, Carl works with schools, districts and educational organizations around the country. He is known for his keynote speeches and courses at writing institutes as well as for his presentations at national conferences. Carl also taught for eight years in the Bronx, New York, Bardstown, Kentucky and Northbrook, Illinois in grades five to eight. In his book, How's It Going? A Practical Guide to Conferring with Student Writers, Carl leads readers through the challenging but essential terrain of learning to confer with student writers. The book includes an in-depth discussion of the teacher's role in conferences, strategies for teaching students to take an active role, ways to weave literature, mini-lessons, classroom management strategies, and responses to the most frequently asked questions about conferring. Carl also authored Assessing Writers and the series Strategic Writing Conferences: Smart Conversations that Move Young Writers Forward Grades 3-6.

Fr. Jose Granados, a priest of the Disciples of the Hearts of Jesus and Mary, is Vicepresident and Professor of Dogmatic Theology at the Pontifical John Paul II Institute for Studies on Marriage at Family at the Lateran University in Rome. Besides several other publications, he is the co-author with Carl Anderson of the successful book "Called to Love."
Praise For Called to Love…
"Carl Anderson and Father José Granados write with a clarity, beauty, and intelligence that make these pages a joy to read. But it's the content that makes this book so important. In a culture that increasingly devalues human life, this is a compelling, wonderfully readable reflection on 'the theology of the body' and the meaning of human love and sexuality. I highly recommend it."
—The Most Reverend Charles J. Chaput, O.F.M. Cap., Archbishop of Philadelphia