The Andalucian Friend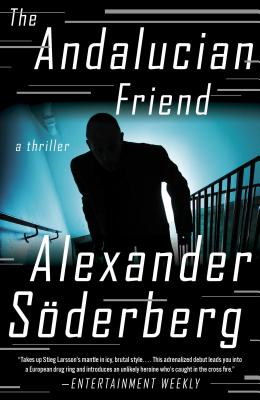 The Andalucian Friend
Broadway Books, Paperback, 9780770436070, 446pp.
Publication Date: October 29, 2013
* Individual store prices may vary.
Buy at Local Store
Enter your zip code below to purchase from an indie close to you.
or
Buy Here
Description
A Monumental International Crime Thriller That Brad Thor Calls "The Girl with the Dragon Tattoo meets The Sopranos."

Hector Guzman has fooled many women.With his quiet charm, easy smile, and smooth demeanor it's easy to fall into his trap, andSophie Brinkmann, a widowed single mother, is no exception. She quickly learns, though, that his sleek facade masks something sinister.
Guzman is the head of a powerful international crime ring with a reach into drugs and weaponry that extends from Europe to South America. His interests are under siege by a ruthless German syndicate who will stop at nothing to stakeits claim.But the Guzmans are a family of fighters and willwage war to protect what's rightfully theirs.When Sophie isunwittingly caught in the crossfire, she must summon everything within her to navigate the intricate web of moral ambiguity, deadly obsession, and craven gamesmanship.
About the Author
ALEXANDER SODERBERG has worked as a television screenwriter and lives in the countryside in the south of Sweden with his wife and children. The Andalucian Friend is his first novel."
Praise For The Andalucian Friend…
"Epic... The Andalucian Friend is a crime novel that mixes familial drama — the Guzman crime family is drawing comparisons to Mario Puzo's Corleones — gang wars, the illegal gun trade, break-the-rules cops and unspeakable violence…The scope of this novel is sometimes astounding and always fascinating."—USA Today

"Scandinavian crime fiction finds a new voice in Alexander Söderberg. . . .[a] dark, intricate debut novel."—Los Angeles Times

"[A] tense, accomplished debut. . . . Complex but swift, well-written and often grisly. . . . There are enough aspects left unresolved to look forward to at least two more books of deadly peril, with new danger at every turn." —The Wall Street Journal
 
"Takes up Stieg Larsson's mantle in icy, brutal style. . . . This adrenalized debut leads you into a European drug ring and introduces an unlikely heroine who's caught in the crossfire." —Entertainment Weekly

"An enjoyably offbeat thriller about rival gangs fighting over an international drug-smuggling route. . . . [Söderberg] writes with feeling about the crushing psychological stress felt by both cops and criminals."—The New York Times Book Review

"A timely thriller [that] adds some gritty saturated color to the minimal black-and-white palette of Nordic noir. . . . Intriguing." —Mystery Scene

"Imagine The Girl with the Dragon Tattoo meets The Sopranos, then crank up the intrigue and rip off the knob.  Alexander Söderberg has penned an awesome thriller you won't want to miss." —Brad Thor, #1 New York Times bestselling author of Black List

"One of the many wonderful things about Alexander Söderberg's novel, The Andalucian Friend, is how it upsets our expectations.  His cops act like gangsters, while his gangsters (some of them) attain a startling sort of nobility.  Söderberg has created an entertaining, engaging, and wonderfully bloody-minded world.  He's a great storyteller.  It's that simple." —Scott Smith, author of The Ruins

"The international cast is packed with compelling bad guys, the plot is intricate and urgent, and the dialogue is tense and true and sometimes even funny. A joy-ride of a read." —Chris Pavone, author of The Expats

"[Söderberg] puts his cinematic background to good use, creating one tense scene after another and jump-cutting all the way to [the] climax." —The Washington Post
 
"A graceful, economical writer with a keen eye for detail and an even keener ear for dialogue, [Söderberg] fixes his attention, above all, on characters who are immediately intriguing." —The Barnes & Noble Review

"This gripping crime novel, the first in a trilogy, deserves to stand completely on its own... a multistranded plot that holds together as exquisitely as finely wound silk. But, as with the Larsson trilogy, it's the woman at the center who sparks the engine." 
—Booklist (starred review)
 
"A tale of cutthroat mob bosses. . . . Söderberg writes exceptionally well-drawn and sympathetic characters . . . and has the chops to move a story along with the best of them."—BookPage

"Excellent. . . . [A] jam-packed plot." —Publishers Weekly (starred review)

"Söderberg is masterful." —Kirkus Reviews