Where the Hell Are the Guns?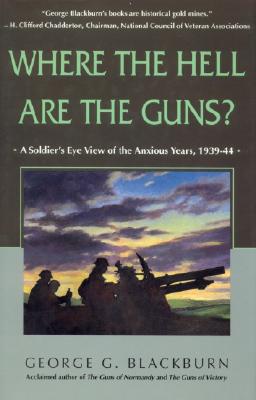 Where the Hell Are the Guns?
A Soldier's View of the Anxious Years, 1939-44
McClelland & Stewart, Paperback, 9780771015069, 456pp.
Publication Date: April 10, 1999
* Individual store prices may vary.
Buy at Local Store
Enter your zip code below to purchase from an indie close to you.
or
Not Currently Available for Direct Purchase
Description
In "Where the Hell Are the Guns?," author George Blackburn returns to the early years of the Second World War. This volume - which completes Blackburn's award-winning trilogy, extending its coverage to the entire war - brings wartime Canada and England to life in captivating, often comic, detail. With the skill of a novelist and the instincts of a seasoned reporter, this gifted storyteller traces the evolution of Canada's 4th Field Regiment from a motley assortment of ill-equipped recruits to the cream of the Allied artillery, more than ready to distinguish itself in the maelstrom of the battle for Normandy.
The Second World War comes to a generation of Canadians one sunny September weekend in 1939. It is a Canada woefully unprepared for conflict, and 4th Field Regiment is rapidly assembled from a grab-bag of volunteers from all walks of life - many of them mavericks and misfits from a depression-ravaged land. The regiment passes its first year in Canada in makeshift accommodation, including hastily converted stables and pigsties in the exhibition grounds of Ottawa and Toronto. For the first few months the soldiers must wear incomplete and moth-eaten uniforms from the Great War, and their early training is conducted using obsolete equipment or no equipment at all. One year into the war, the regiment arrives in England without weapons or vehicles, and a month later, with Britain moving toward the greatest crisis in her history, the regiment is finally equipped with guns - French ones with wooden wheels, dating from 1898.
From these inauspicious beginnings, the regiment slowly evolves - with mishap and occasionally mayhem along the way - into a proud and polished regiment, which in 1942 is declared "the best field regiment in Britain." By the time the Allied troops land on the beaches in Normandy, the boys of 4th Field are more than ready to go to war.
"From the Hardcover edition.
About the Author
George was a young journalist when he joined the Canadian army.
Praise For Where the Hell Are the Guns?…
"George Blackburn never stopped thinking like a reporter…Reporters often find the human side gets lost in the scope of the event. Never in Blackburn's books. I spent the weekend in Where the Hell Are the Guns? and loved it."
–Dave Brown, columnist, Ottawa Citizen

"Blackburn's story of the pre-invasion years of World War II…is every soldier's story – the most compelling account yet of Canadian soldiers preparing for battle. Blackburn has the gift of taking the reader back to those times; his anecdotal, present-tense style makes history live. His three books are all the average person needs to fully understand the war and, more significantly, the men who fought it."
–Peter Worthington, columnist, Toronto Sun

"With this book, George Blackburn has completed his trilogy – and what a trilogy it is. History, humour, and humanity cohabit on these pages and give us a truly remarkable ride through the war years. What a blessing it is that Blackburn lived through those events to pass it down, in extraordinary context, to future generations."
–Tom Clark, National Editor, BBS-TV

"George Blackburn's books are historical gold mines – and Where the Hell Are the Guns? is no exception. This is a penetrating account of wartime in Canada and overseas. It is also a deeply emotional love story in which Blackburn tells of his courtship with his wife and conveys a soldier's feelings of loneliness and panic, knowing full well he may never return. This book deserves to be read as much or even more than the other two."
–H. Clifford Chadderton, Chairman, National Council of Veteran Associations