Canadian Whisky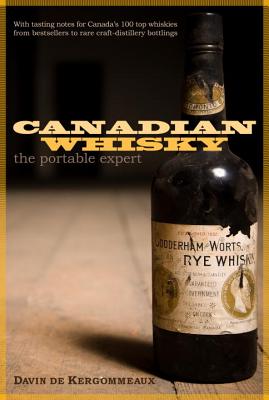 Canadian Whisky
The Portable Expert
McClelland & Stewart, Hardcover, 9780771027437, 336pp.
Publication Date: May 8, 2012
* Individual store prices may vary.
Buy at Local Store
Enter your zip code below to purchase from an indie close to you.
or
Not Currently Available for Direct Purchase
Description
Davin de Kergommeaux takes readers on a journey through the first systematic presentation of Canadian whisky: how it's made, who makes it, why it tastes the way it does, its history, and the rich, centuries-old folklore surrounding it.
 
Join whisky authority Davin de Kergommeaux on a pan-Canadian journey from British Columbia to Nova Scotia, celebrating the diversity of Canada's unique spirit. With his conversational and accessible tutelage, de Kergommeaux offers readers a carefully researched, reliable, and authoritative guide to Canadian whisky that is, quite simply, not available anywhere else. Not only a book describing the history and culture of the spirit, Canadian Whisky: The Portable Expert is also an informed exploration of taste. For the first time, whisky consumers -- experts and novices alike -- can approach Canadian whisky with a connoisseur's appreciation of its rich subtleties.
Praise For Canadian Whisky…
WINNER OF THE GOURMAND BOOK AWARD FOR BEST SPIRITS BOOK CANADA 2012
WINNER, 2013 IACP Cookbook Awards – Wine, Beer, and Spirits

"This is an important time for Canadian whisky and this is an important book which isn't just a story of a drink, but a story of Canada itself. It makes you want to get a bottle and a glass, pour yourself a stiff one, sit back and dive in. I'd suggest you do exactly that."
—Dave Broom, author of The World Atlas of Whisky 

"The Canadian whisky industry has done itself no favours in recent years, content to be perceived as capable of only making bland ryes. Davin de Kergommeaux's book isn't just important, it's a game changer, bringing to life an extraordinary and evolving whisky industry. A proud, insightful beauty of a book."
—Dominic Roskrow, author of The World's Best Whiskies and 1001 Whiskies to Try Before You Die
 
"After reading this book, I now understand there's a lot more of this spirit to explore, and de Kergommeaux has me excited to do so."
—Jason Wilson, spirits columnist, the Washington Post and author of Boozehound: On the Trail of the Rare, the Obscure, and the Overrated in Spirits
 
"This is the book Canadian whisky has long needed and richly deserves. Detailed, authoritative, and well-written, it debunks myths and sets records straight with grace and aplomb. There is no guessing, no speculation, and no producer hype, just facts, clearly and patiently explained. I'm delighted that we now have this tremendous resource."
—Charles K. Cowdery, author of Bourbon, Straight
 
"While much has been written about other world whiskies, Canada's national spirit has always been left in the shadows – until now. Davin has brilliantly captured Canada's true spirit. He takes the reader on an engaging and informative journey of discovery, revealing the art, science, history, and passion of the whisky men behind Canada's iconic elixir. Just like Canadian whisky itself, Davin's book will leave you thirsting for another."
—John K. Hall, Whisky Maker, Forty Creek Whisky, Ontario
 
"de Kergommeaux's excellent book opens the door to this magnificent land, its whiskies, and history. Superbly researched and written, it is a must have for the whisky lover. If you have not discovered Canadian whisky, yet, let Davin be your guide." 
—Rob Allanson, Editor, Whisky Magazine
 
"I've been looking for a complete guidebook about Canadian whisky for ages and Davin de Kergommeaux's new opus is far more than I'd hoped for. In truth, it's a book that's blessed with superpowers: it will make any Canadian, even the most well-known brands, taste (even) better once you have read it, or even just thumbed through it for the first time! Essential reading..."
—Serge Valentin, Publisher of Whiskyfun.com and contributor, Whisky & Fine Spirits France
 
"Canadian Whisky is truly unique, and Davin de Kergommeaux has captured a story that truly reflects whisky's place in Canadian history and culture. He's scored the hat trick all authors should strive for: detailed, informative, and entertaining. Canadian whiskies will always have a place on my shelf, right next to this book."
—Mark Gillespie, Executive Producer/Host, WhiskyCast: Cask-Strength Conversation