Grand Centaur Station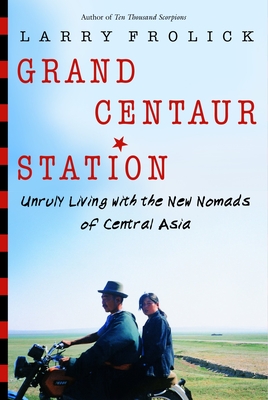 Grand Centaur Station
Unruly Living with the New Nomads of Central Asia
McClelland & Stewart, Paperback, 9780771047824, 348pp.
Publication Date: March 23, 2004
* Individual store prices may vary.
Shop Local
Enter your zip code below to find indies closest to you.
Description
With the grim determination of an unrepentant rocker, Larry Frolick sets off on a 12,000-mile trek across Central Asia, brooding over the fate of its lost civilizations. From Kiev, Crimean Tartary, and Moscow, through the nomadic homelands of Uzbekistan, Kyrgizstan, Tien-Shan, and finally into distant Mongolia and Siberia, he explores a continent on the brink of a meltdown, a strange world lit harshly by the red afterglow of the Soviet collapse.

His vivid account opens the door to a crowd of unlikely strangers: Mafiosi flatheads, salt-mine campers, fractious archaeologists, a conceptual artist who uses fresh corpses in his window displays, the very last of three Romanov princesses, an inept Chinese secret agent, a relentless Uzbek glottal probologist, disgruntled e-mail swains – and above all, Larissa, the moody Eurasian beauty who "just stepped out of a novel in her impossibly pointy Italian shoes." With gleeful wit and a steely eye for detail, Frolick transports the reader to a world inhabited by a people burning with desire for something new to happen.
About the Author
Larry G. Frolick graduated from the University of Toronto with degrees in both law and anthropology. He practiced family law for twenty years, during a time when the divorce rate skyrocketed in North America. His previous work about children has won international awards. Openly critical of our legal and medical systems, which he feels have failed the people, Frolick insists we need a radical personal approach to divorce today.

Steve Wilson met cobiographer Joe Florenski while researching an article on Paul Lynde for Out magazine in 2000. He ran across Florenski's Web site devoted to Lynde. Begun in 1997, the site contains exhaustive resources on Lynde, and Florenski has lent research support to both E! and A&E Biography for their segments on the comedian. Wilson and Florenski worked so well together on the piece for Out that they decided to collaborate on a book. Steve Wilson lives in Austin, TX 78722. Joe Florenski lives in Columbus, OH 43215.