Hot Air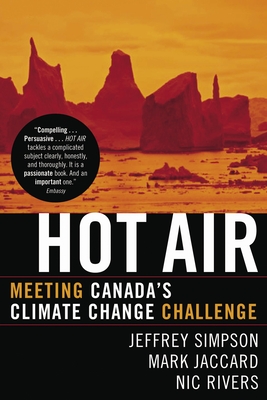 Hot Air
Meeting Canada's Climate Change Challenge
McClelland & Stewart, Paperback, 9780771080975, 281pp.
Publication Date: August 26, 2008
* Individual store prices may vary.
Buy at Local Store
Enter your zip code below to purchase from an indie close to you.
or
Not Currently Available for Direct Purchase
Description
Here's a clear, believable book for Canadians concerned about our situation -- and it offers a solution.
It's a brilliant mix. To "Canada's best mind on the environment," Mark Jaccard, who won the 2006 Donner Prize for an academic book in this area, you add Nic Rivers, a researcher who works with him at Simon Fraser University. Then you add Jeffrey Simpson, the highly respected "Globe and Mail "columnist, to punch the message home in a clear, hard-hitting way. The result is a unique book.
Most other books on energy and climate change are: (a) terrifying or (b) academic or (c) quirky, advocating a single, neat solution like solar or wind power.
This book is different. It starts with an alarming description of the climate threat to our country. Then it shifts to an alarming description of how Canadians have been betrayed by their politicians ("We're working on it "), their industrialists ("Things aren't that bad, really, and voluntary guidelines will be good enough."), and even their environmentalists ("Energy efficiency can be profitable, and people can change their lifestyles ") All of this, of course, reinforces the myths that forceful policies are not needed.
Hot Air then lays out in convincing and easily understandable terms the few simple policies that Canada must adopt right away in order to significantly reduce greenhouse gas emissions over the next few decades. It even shows how these policies can be designed to have minimal negative effects.
With evidence from other countries that are successfully addressing climate change, Hot Air shows why these are the only policies that will work -- and why this is a matter of life and death for all of us.
"From the Hardcover edition.
About the Author
JEFFREY SIMPSON was born in the USA and moved to Canada as a child.Millions of Canadians read his highly respected national affairs column in The Globe and Mail and watch his commentary on CBC Television news.He is the author of three bestselling books, Faultlines, Spoils of Power and Discipline of Power, which won the Governor General's Award for Non-Fiction.He has won the National Magazine Award for political writing and the National Newspaper Award for column writing.In January 2000, he was appointed an Officer of the Order of Canada.Jeffrey Simpson lives in Ottawa.

Mark Jaccard is a Professor in the School of Resource and Environmental Management at Simon Fraser University, where he directs the Energy and Materials Research Group.