No New Land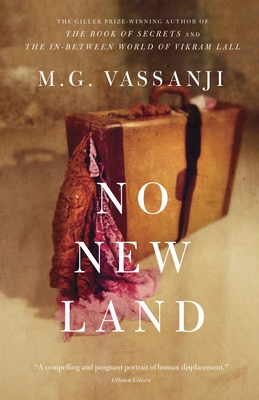 No New Land
Emblem Editions, Paperback, 9780771087226, 224pp.
Publication Date: October 11, 1997
* Individual store prices may vary.
Buy Now
or
Shop Local
Enter your zip code below to purchase from an indie close to you.
Description
Nurdin Lalani and his family, Asian immigrants from Africa, have come to the Toronto suburb of Don Mills only to find that the old world and its values pursue them. A genial orderly at a downtown hospital, he has been accused of sexually assaulting a girl. Although he is innocent, traditional propriety prompts him to question the purity of his own thoughts. Ultimately, his friendship with the enlightened Sushila offers him an alluring freedom from a past that haunts him, a marriage that has become routine, and from the trials of coping with teenage children. Introducing us to a cast of vividly drawn characters within this immigrant community, Vassanji is a keen observer of lives caught between one world and another.
About the Author
M.G. Vassanji was born in Kenya, and raised in Tanzania. He took a doctorate in physics at M.I.T. and came to Canada in 1978. While working as a research associate and lecturer at the University of Toronto in the 1980s he began to dedicate himself seriously to a longstanding passion: writing.
His first novel, The Gunny Sack, won a regional Commonwealth Writers Prize, and he was invited to be writer-in-residence at the University of Iowa. The novel's success was a spur, Vassanji has commented: "It was translated into several languages. I was confident that this was what I could do, that writing was not just wishful thinking. In 1989 I quit my full-time job and began researching The Book of Secrets." That celebrated, bestselling novel won the inaugural Giller Prize, in 1994.
Vassanji's other books include the acclaimed novels No New Land (1991) and Amriika (1999), and Uhuru Street (1991), a collection of stories. His unique place in Canadian literature comes from his elegant, classical style, his narrative reach, and his interest in characters trying to reconcile different worlds within themselves. The subtle relations of the past and present are also constants in his writing: "When someone asks you where you are from or who you are, there is a whole resume of who you are. I know very few people who do not have a past to explain. That awareness is part of my work."
M.G. Vassanji was awarded the Harbourfront Festival Prize in 1994 in recognition of his achievement in and contribution to the world of letters, and was in the same year chosen as one of twelve Canadians on "Maclean's" Honour Roll. He lives in Toronto with his wife and two sons.
"From the Hardcover edition."
Praise For No New Land…
   • "A novel of considerable charm and intelligence, informed by a delightful sense of irony." -- Mordecai Richler


   • "Vassanji probes beneath the surface to create a compelling and poignant portrait of human displacement." -- Ottawa Citizen


   • "It is part of Vassanji's great talent to demonstrate that the minor changes -- unexpected love, sex, accusations -- in the life of a very modest man are, in fact, transformations of history." -- Globe and Mail


   • "Vassanji, in charting a tiny part of the Canadian reality, offers up certain truths, thought-provoking, disturbing, but ultimately, and in a small way, hopeful." -- Saturday Night