Against the Odds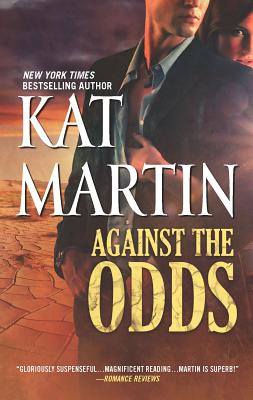 Against the Odds
Harlequin Mira, Mass Market Paperbound, 9780778314226, 400pp.
Publication Date: December 18, 2012
* Individual store prices may vary.
Buy Now
or
Shop Local
Enter your zip code below to purchase from an indie close to you.
Description
"Mr. Justice Mr. Justice, can you give us a moment of your time?"
Sabrina Eckhart stared at the news broadcast on KTRK-TV. She had watched the segment run on an earlier edition, but found herself watching it again.
The reporter, a small man with dark hair and a determined expression, hurried to keep up with Alex Justice's long strides as he walked out of the downtown Houston Police Department building. "Mr. Justice " At the sight of several TV cameras, Alex's steps reluctantly slowed.
"Everyone in the city is grateful for what you did," the reporter said. "People are calling you a hero. What do you think about that?" The man thrust a microphone into Alex's handsome face. Six two, dark blond hair and blue eyes, always dressed as if he'd just stepped out of a "GQ" magazine, Alex Justice was an amazing-looking man.
"I'm a private investigator," Alex said. "I did what I was paid to dofind evidence that would identify the killer of a ten-year-old girl. I was lucky enough to make that happen. There's nothing heroic about it."
"It's been said you'll do anything to catch your man. Is that true?"
Alex just kept walking. There wasn't a glimpse of the deep dimples bracketing his mouth that Rina remembered so well. She hadn't seen him in more than six months, not since the day her best friend, Sage Du-mont, married Jake Cantrell, one of Alex's best friends.
Rina watched him stride away until he disappeared offscreen, then the camera cut to the reporter, who relayed the story of the little girl who had been abducted, sexually abused and murdered three years ago. Ten-year-old Carrie Wiseman's killer had never been foundnot until Alex Justice had come up with DNA evidence that directly linked the girl to a neighbor who lived down the street from her home.
Two days ago, the neighbor, Edward Bagley.
About the Author
Kat Martin s bestselling novels include "Nothing But Velvet, Innocence Undone", and the Raines of Wind Canyon Series "Against the Wind, Against the Fire", and "Against the Law". Her book "Silk and Steel" was nominated for a RITA Award. She is a graduate of the University of California, where she majored in Anthropology and History, a background that helped to develop her interest in the past. "I love anything old," she says. "I especially love to visit the settings for my books. My husband and I often stay in out-of-the-way inns and houses built in times past. It's fun and it gives a wonderful sense of a bygone era." Before becoming a writer, Martin was a real estate broker. She lives with her husband, author Larry Jay Martin, in Missoula, Montana.
Praise For Against the Odds…
"Fans of Martin's Raines of Wind Canyon trilogy are going to love meeting more of this testosterone-and-honor-laden family...the romantic suspense is tautly compelling and the psychological terror ratchets up with each red herring. Readers aren't going to be able to put the light out until the last page." -RT Book Reviews



"It doesn't matter what Martin's characters are up against-she dishes up romantic suspense, sizzling sex and international intrigue in healthy doses, and fans are going to be the winners. Readers better set aside a block of time to finish this unputdownable tale of adventure and romance." -RT Book Reviews Top Pick AGAINST THE SUN



"Kat Martin has done a fine job again...The characters are edgier in one sense, which gives them an air of unpredictability that adds to the suspense of the story...Very nicely done, Kat Martin!" -The Best Reviews on AGAINST THE NIGHT



"I've never read a book by Kat Martin that wasn't immediately headed for my keeper shelf. Historical or contemporary, she's a must-read for me. With Against the Storm she proves once again why I keep coming back for more." -Joyfully Reviewed



"Once you start Against the Law, be prepared not to stop until you've reached the end. With its nonstop action, nail-biting episodes mixed with some sizzling love scenes, this is one I highly recommend." -Romance Reviews Today



"Right from the opening scene of Against the Fire, readers will be pulled into the heart-stopping action...[and] hold their breath as each fire brings even more danger for Mattie and Gabe....A fascinating page-turner, one you won't want to miss." -Romance Reviews Today



"There's something irresistible about a bad boy....This sexy page-turner is a perfect blend of romance, mystery and action." -RT Book Reviews on AGAINST THE FIRE



"This is definitely a page-turner full of compassion and love shared by two unlikely souls. This is a 'don't miss' read....Kat Martin is a very gifted writer who takes you from the beginning to the end in total suspense." -Fresh Fiction on AGAINST THE WIND