Candlelight Christmas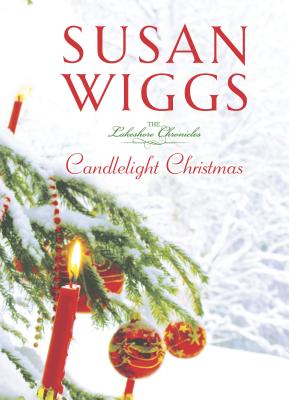 Candlelight Christmas
Mira Books, Hardcover, 9780778314745, 336pp.
Publication Date: October 29, 2013
* Individual store prices may vary.
Shop Local
Enter your zip code below to find indies closest to you.
Description
#1 NEW YORK TIMES BESTSELLING AUTHOR SUSAN WIGGS INVITES YOU TO AN UNFORGETTABLE CHRISTMAS IN THE CATSKILLS 

A single father who yearns to be a family man, Logan O'Donnell is determined to create the perfect Christmas for his son, Charlie. The entire O'Donnell clan arrives to spend the holidays in Avalon, a postcard-pretty town on the shores of Willow Lake, a place for the family to reconnect and rediscover the special gifts of the season. 

One of the guests is a newcomer to Willow LakeDarcy Fitzgerald. Sharp-witted, independent and intent on guarding her heart, she's the last person Logan can see himself falling for. And Darcy is convinced that a relationship is the last thing she needs this Christmas. 

Yet between the snowy silence of the winter woods, and toasty moments by a crackling fire, their two lonely hearts collide. The magic of the season brings them each a gift neither ever expecteda love to last a lifetime.
About the Author
When Susan Wiggs s recent novel, Fireside, landed at #1 on the New York Times bestseller list, the author responded by jumping fully clothed into her swimming pool. In February. In the Pacific Northwest. After thawing herself out, the author put on her lipstick and vacuumed the living room. Why? Because on the tiny island where she lives, news travels fast. She knew her girlfriends would show up momentarily - which they did - with the customary champagne and bags of Cheetos. She toasted her loyal readers, whose unflagging interest in her books propelled her sales upward. She toasted her friends and family as well, since they have always been the source of her inspiration. From the very start, her writings have illuminated the everyday dramas of ordinary people. At the age of eight, she self-published her first novel, entitled A Book About Some Bad Kids. Today, she is an international best-selling author, with millions of copies of her books in print in numerous countries. Her Lakeshore Chronicles novels celebrate the power of love, the timeless bonds of family and the nuances of human nature that make headlines every day. She lives on an island in the Pacific Northwest and is perpetually working on her next novel.
Praise For Candlelight Christmas…
"Wiggs tells a layered, powerful story of love, loss, hope and redemption." -Kirkus, Starred Review on The Apple Orchard



"This brilliant and epic family drama...fills the senses...courtesy of Wiggs' amazing narrative and supreme skill as a writer." -RT Book Reviews, Top Pick! On The Apple Orchard


"Wiggs hits all the right notes in this delightful, sometimes funny, sometimes poignant Christmas treat, which will please Lakeshore Chronicles fans as well as garner new ones."

-Library Journal, starred review on Lakeshore Christmas

"Wiggs, a consummate storyteller, has few equals when it comes to evoking deep emotion in readers. Richly detailed and textured, the characters are superb. But it's her observations about our modern lives and times that really stand out."

-RT Book Reviews on Lakeside Cottage

"With the ease of a master, Wiggs introduces complicated, flesh-and-blood characters into her idyllic but identifiable small-town setting."

-Publishers Weekly, starred review on The Winter Lodge

"Rich with life lessons, nod-along moments and characters with whom readers can easily relate. Delightful and wise, Wiggs's latest shines."

-Publishers Weekly on Dockside

"Wiggs's storytelling is heartwarming...[and] this book should appeal to romance and women's fiction readers of any age."

-Publishers Weekly on Summer at Willow Lake