City of Jasmine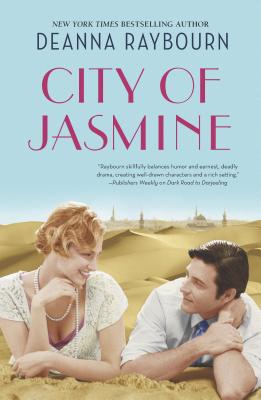 City of Jasmine
Mira Books, Paperback, 9780778316213, 354pp.
Publication Date: February 25, 2014
* Individual store prices may vary.
Buy at Local Store
Enter your zip code below to purchase from an indie close to you.
or
Buy Here
Description
Set against the lush, exotic European colonial outposts of the 1920s, New York Times bestselling author Deanna Raybourn delivers the captivating tale of one woman who embarks upon a journey to see the worldand ends up finding intrigue, danger and a love beyond all reason.
Famed aviatrix Evangeline Starke never expected to see her husband, adventurer Gabriel Starke, ever again. They had been a golden couple, enjoying a whirlwind courtship amid the backdrop of a glittering social set in prewar London until his sudden death with the sinking of the Lusitania. Five years later, beginning to embrace life again, Evie embarks upon a flight around the world, collecting fame and admirers along the way. In the midst of her triumphant tour, she is shocked to receive a mysteriousand recentphotograph of Gabriel, which brings her ambitious stunt to a screeching halt.
With her eccentric aunt Dove in tow, Evie tracks the source of the photo to the ancient City of Jasmine, Damascus. There she discovers that nothing is as it seems. Danger lurks at every turn, and at stake is a priceless relic, an artifact once lost to time and so valuable that criminals will stop at nothing to acquire iteven murder. Leaving the jewelled city behind, Evie sets off across the punishing sands of the desert to unearth the truth of Gabriel's disappearance and retrieve a relic straight from the pages of history.
Along the way, Evie must come to terms with the deception that parted her from Gabriel and the passion that will change her destiny forever.
About the Author
Deanna Raybourn is the New York Times bestselling, award-winning author of A Spear of Summer Grass, The Dead Travel Fast, and the Lady Julia Grey series. Silent in the Grave, the first book in the Lady Julia Grey series, won the 2008 RITA Award for Best Novel with Strong Romantic Elements. Deanna lives in Virginia with her family. Visit her at deannaraybourn.com.