The Maiden of Ireland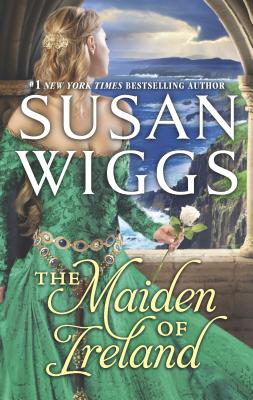 The Maiden of Ireland
Mira Books, Mass Market Paperbound, 9780778316466, 439pp.
Publication Date: August 26, 2014
* Individual store prices may vary.
Buy Now
or
Shop Local
Enter your zip code below to purchase from an indie close to you.
Description
www.SusanWiggs.com
#1 New York Times bestselling author Susan Wiggs sweeps readers away to the misty coast of Ireland in an irresistible tale of falling in love with the enemy...
John Wesley Hawkins was condemned to hang, accused of treason and heresy. As he's transported to the scaffold at Tyburn, however, the Lord Protector steps in and offers him the hand of mercy--if Wesley agrees to travel to Ireland on a dangerous mission into the heart of the Irish resistance against English rule. He'll have to seduce the rebels' secrets from a headstrong Irishwoman, but that shouldn't be a problem for a man of Wesley's reputation....
Caitlin MacBride is mistress of the beleaguered Irish castle Clonmuir, and she makes no secret of her loyalty to her countrymen. She's determined to remain strong for her people, but a wish for true love one evening at sunset yields the one thing that may sway her resolve. When Wesley walks out of the mist that fateful night, Caitlin's faith in the magic of Ireland is briefly restored--until she discovers he's one of the treacherous Englishmen she has spent her life fighting against.
About the Author
When Susan Wiggs s recent novel, Fireside, landed at #1 on the New York Times bestseller list, the author responded by jumping fully clothed into her swimming pool. In February. In the Pacific Northwest. After thawing herself out, the author put on her lipstick and vacuumed the living room. Why? Because on the tiny island where she lives, news travels fast. She knew her girlfriends would show up momentarily - which they did - with the customary champagne and bags of Cheetos. She toasted her loyal readers, whose unflagging interest in her books propelled her sales upward. She toasted her friends and family as well, since they have always been the source of her inspiration. From the very start, her writings have illuminated the everyday dramas of ordinary people. At the age of eight, she self-published her first novel, entitled A Book About Some Bad Kids. Today, she is an international best-selling author, with millions of copies of her books in print in numerous countries. Her Lakeshore Chronicles novels celebrate the power of love, the timeless bonds of family and the nuances of human nature that make headlines every day. She lives on an island in the Pacific Northwest and is perpetually working on her next novel.