Right Next Door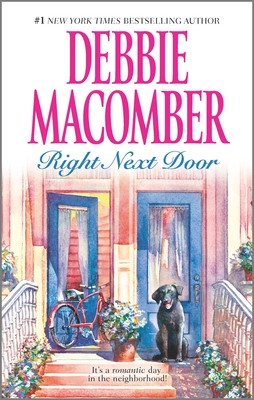 Right Next Door
Mira Books, Mass Market Paperbound, 9780778327004, 408pp.
Publication Date: May 26, 2009
* Individual store prices may vary.
Shop Local
Enter your zip code below to find indies closest to you.
Description
"The Courtship of Carol Sommars"
Peter Sommars is fifteen, and what he needs is a little more independence. Which is why he'd like his mom, Carol, to start dating. He even knows the perfect man--Alex Preston, his best friend's dad. As it turns out, Alex is interested, but Carol's doing everything she can to sidestep his pursuit. Which only makes Alex--and the boys--more determined
"Father's Day"
Robin Masterson's ten-year-old son, Jeff, figures he needs a dog more than anything in the world. And there just happens to be one right next door But the friendly black Lab belongs to Cole Camden, the "unfriendliest" man in the neighborhood. Still, Jeff persists...and soon his mom and Cole are looking at each other in a whole new way.
About the Author
Debbie Macomber, with more than 100 million copies of her books sold worldwide, is one of today's most popular authors. The #1 New York Times bestselling author is best known for her ability to create compelling characters and bring their stories to life in her books. Debbie is a regular resident on numerous bestseller lists, including the New York Times (70 times and counting), USA TODAY (currently 67 times) and Publishers Weekly (47 times). Visit her at www.DebbieMacomber.com.